Last week, the Ohio Supercomputer Center (OSC) introduced its new industrial engagement initiative at SC13, the premier international conference for high performance computing, networking, storage and analysis, held this year in Denver, Colo.
The initiative, known as AweSim, is designed to provide the benefits of modeling and simulation to small and mid-sized manufacturers. The $6.4 million public/private initiative is funded through the State of Ohio's Third Frontier Commission and through investments by program partners P&G, Intel, AltaSim Technologies, TotalSim USA, Kinetic Vision and Nimbis Services. 
Collaboration was a prevalent theme at the conference, and AweSim drew widespread interest from media. The coverage included a couple of articles with national reach, especially from the Associated Press and ComputerWorld (see below).
---
If you would like to learn how AweSim will change the world of manufacturing through modeling and simulation, please visit AweSim.org, or take a few minutes to watch our AweSim overview video.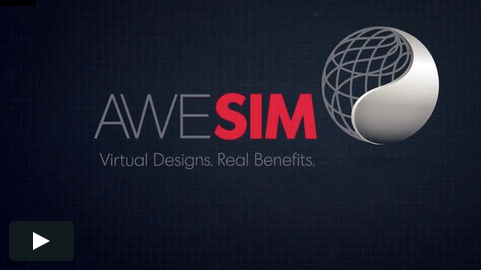 ---
AweSim In the News:
ComputerWorld
http://www.computerworld.com/s/article/9244382/Here_comes_a_supercomputing_app_store
Also appeared in CIO, ARNnet, TechInvestorNews, Thinking Machine Blog, Computer Magazine and others.
Associated Press
10TV (Columbus)
http://www.10tv.com//content/stories/2013/11/23/oh--supercomputing-initiative.html
Also appeared in Anchorage Daily News, Miami Herald, WEWS (Cleveland), WCPO (Cincinnati), ABC6 (Columbus), 10TV (Columbus), OneNewsPage.us, Fort Wayne Journal Gazette, OhNewsFeed.com, i4u.com, WTOV9 (Steubenville), African Financial News, 98.9 FM (Columbus), Lexington Herald-Leader, Lisbon (OH) Morning Journal, WKRC TV12 (Cincinnati), WHIO TV (Dayton), Tiffin Advertiser-Tribune, Dayton Daily News, Warren Tribune Chronicle, Wheeling Intelligencer, WRGT-TV 45 (Dayton), Toledo News Now, The Olympian (WA), St. Augustine (FL) Record, Cuyahoga Falls News-Press, Ashland Times-Gazette, Minerva News-Leader, WHIZ-TV (Zanesville), Wooster Daily Record, manufacturing.500biz.com, Newcomerstown News, Primeur Magazine tweet, Tacoma (WA) News Tribune and others.
---
About the Ohio Supercomputer Center (OSC), a member of the Ohio Technology Consortium of the Ohio Board of Regents, addresses the rising computational demands of academic and industrial research communities by providing a robust shared infrastructure and proven expertise in advanced modeling, simulation and analysis. OSC empowers scientists with the vital resources essential to make extraordinary discoveries and innovations, partners with businesses and industry to leverage computational science as a competitive force in the global knowledge economy, and leads efforts to equip the workforce with the key technology skills required to secure 21st century jobs. For more, visit www.osc.edu.
About the Ohio Technology Consortium (OH-TECH) was established in 2011 to serve as the research and technology arm of the Ohio Board of Regents (OBR), offering innovative technology resources and services for Ohio higher education, K-12 schools and state and local government. OH-TECH leverages the strengths and increases operational efficiency of each member organization: the Ohio Academic Resources Network (OARnet), the Ohio Supercomputer Center (OSC), the Ohio Library Information Network (OhioLINK) and eStudent Services. For more, visit www.oh-tech.org.