Funding Source)
Geoscience Education (GeoEd) Program of the National Science Foundation
PI – Don Stredney, Director, Interface Lab, OSC Contact – don@osc.edu
Co-PI: Christopher Atchison, Ph.D., Department of Geosciences, Georgia State University
Co-Inv: Karen E. Irving, Ph.D., College of Education & Human Ecology, The Ohio State University
Co-Inv: Alan Price, Department of Design,The Advanced Computing Center for the Arts and Design, The Ohio State University
Co-Inv: Rickard S. Toomey III, Ph.D., Director , Mammoth Cave International Center for Science and Learning  and Mammoth Cave National Park
Award number or numbers if collaborative
Award #1108127
Project website address : www.osc.edu/research/Biomed/projects/OEDG
General Approach/Goals:
The overall objective is, through integration of emerging simulations technologies and graphic techniques, to provide a rich virtual environment of a geological field study for students with mobility impairments. This project seeks to develop and test the efficacy of a simulated representation of cave and karst formations for use in geoscience education, with the intent to increase interest and to support participation by students with mobility impairments, an under-represented group in geoscience. The expected outcome is that the emulation of a field experience developed under the OEDG Track1 effort would be pedagogically adequate to meet course objectives and sufficiently preclude the need for physical "presence" during traditional field studies.
Strategies:
The specific objectives of this OEDG Track 1 effort are:
1. Obtain additional data related to the geological formations of the study - Scanned data of Mammoth Cave was obtained from the Cave Research Foundation. Additional high precision data, LIDAR and digital photography, of specific geological formations were obtained during a site expedition.
2. Integrate the data into a virtual environment to emulate a typical field experience - These data were integrated into a unified computer model (See Figure 1 below). This model is loaded into the game engine Unity, and can be interactively explored.  In addition, the system provides a networked version, where participants from disparate locations can collectively meet and explore the cave. A video of the model is available on YouTube at: http://www.youtube.com/watch?v=woHH8J0mZO4&feature=channel&list=UL
3. Conduct usability studies with the mobility impaired community - We are in the midst of conducting formative evaluations with various student populations. Students identified through OSAA will participate in formative and summative evaluations of the developed cave and karst system module.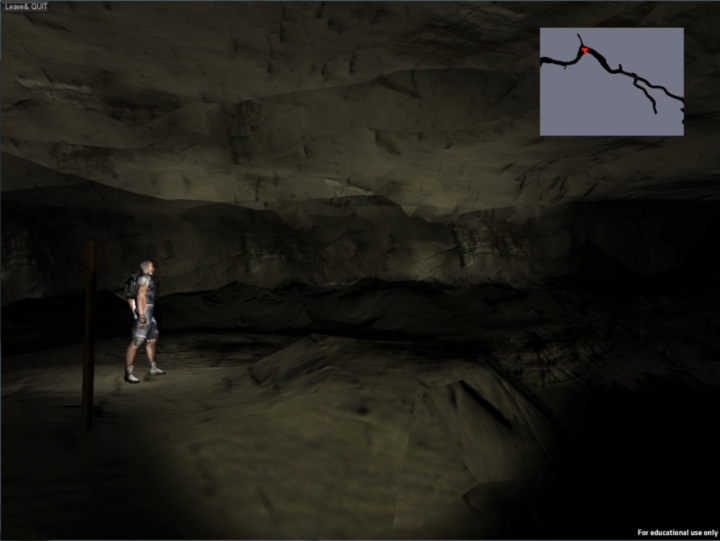 Figure 1: View from interactive session within the cave. Inset is gods-eye view of the historical route of Mammoth Cave with user's location indicated in red.