Intuitive Imaging and Visualization for Super High Field Magnetic Resonance
Sponsor: The Ohio State University Office of Research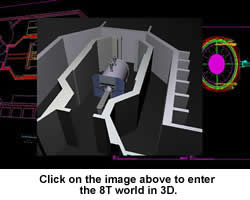 Overview
The Super High Field Magnetic Resonance Facility seeks to improve the human condition through greater understanding of normal human function at the molecular, anatomical, and physiological levels.
The 8 Tesla magnet will provide greatly increased signal to noise, resulting in shorter acquisition times and substantially enhanced spatial resolution and spectrospcopic studies. The issue of having multiple receivers each capable of generating 1 Mega sample/second is unprecedented.
Members of OSC (Stredney, Stutz, and Sessanna) and the Department of Computer and Information Science at the OSU (Panda, Yagel, Crawfis) will facilitate the computing aspects of the 8T project. This effort includes the ability to render and interact with 3D and 4D data in real-time. The computing system will be designed for adaptation by various high end scientific projects that characterize high data flow. Acknowledgments This work is in collaboration with the Center for Advanced Biomedical Imaging and the College of Medicine at The Ohio State University.