Visualization of Skull Base and Cranial Tumors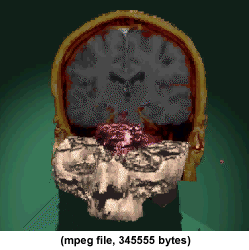 Tumors of the skull base in general are considered one of the more difficult head and neck pathological entities to treat surgically; some surgeons, in fact, consider lesions in this area inoperable. Proximity to vital structures such as cranial nerves, the eye and inner ear, major vascular structures to the brain, and the brain itself makes operating on this region extremely challenging, even for the "experts." In the past, injury to nearby vital structures led to unacceptable operative morbidity. Surgical mortality resulting from hemmorhage and sepsis was overwhelming. Only within the recent past has surgical treatment of lesions in this area become a reasonable alternative.
Merged CT and MRI Datasets
The safest and most appropriate surgical approach to lesions of the anterior and lateral skull base can be devised only with accurate and precise pre-operative assessment. The normal anatomy is complex, and relationships are often pathologically altered or changed by prior surgery. A surgeon commonly finds anatomical relationships that were not anticipated before surgical exposure.
Even current diagnostic capabilities such as magnetic resonance and high resolution thin-section computed tomography do not reveal relationships as extensively as surgical exposure. The precision still does not enable the surgeon to rely solely on information derived from imaging studies. Interoperative clinical assessment is essential. An interdisciplinary team of skull base and cranial surgeons, radiologists, and research and computer scientists are developing an interactive system for real-time manipulation of volumetric reconstructions from imaging studies, combining both computed tomography and magnetic resonance, including magnetic resonance angiography. This work includes developing a volume rendering system capable of real-time rendering of moderate 256(3) to high resolution 300(3)-500(3) volume data sets. The renderer can integrate volumetric and polygonal data so an image of a gloved hand and medical instruments can be seen with volumetric medical data. The system incorporates new techniques in volume deformation and rendering to ultimately drive haptic feedback to the gloved hand in a surgical simulation.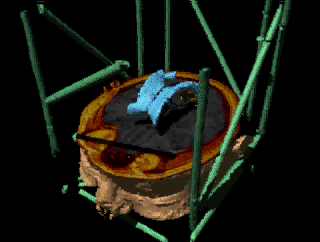 (mpeg file, 715998 bytes) Reconstruction with Stereotactic Cage
---
Acknowledgements
This research is supported by grants from the Office of Research, the Department of Otolaryngology, and the Division of Neurosurgery at The Ohio State University. Additional support is from the Arther G. James Cancer Hospital and Research Institute and the Ohio Supercomputer Center, Columbus, Ohio.
Further Reading
Virtual Simulations of Brain and Cranial Base Tumors
Wiet GJ, Schuller DE, Goodman J, Stredney DL, Bender CF, Yagel R, Swan JE, Schmalbrock P, Proceedings of the 98th Annual Meeting of the American Academy of Otolaryngology Head and Neck Surgery, San Diego, California, September 1994
Supercomputer Assisted Brain Visualization with an Extended Ray Tracer
Stredney D, Yagel R, May S, and Torello M, Boston Workshop on Visualization - ACM SIGGRAPH, 1992, Oct. 33-38
Voxel -Based Morphing
Law A and Yagel R, OSU Technical Report OSU-CISRC-4/93-TR15, 1993