Wheelchair User Proficiency Through Virtual Simulation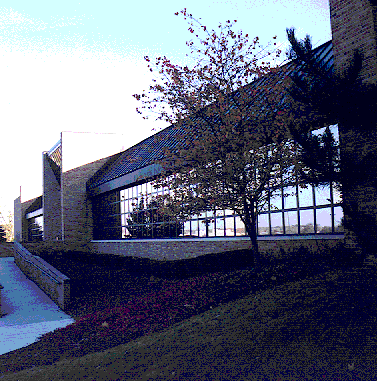 Overview
This is Project VI of the Ohio State University's Rehabilitation Engineering Center for the Quantification of Physical Performance. This research is conducted at OSC in Columbus, Ohio. Investigators include:
Sheldon Simon, M.D., Director, Rehabilitation and Engineering Research Center, The Ohio State University Medical Center
Wayne E. Carlson, Ph.D., Director, The Advanced Computing Center for the Arts and Design, The Ohio State University
Don Stredney, Senior Research Scientist, OSC
Dennis Sessanna, Software Engineer - Virtual Systems, OSC
Rebecca Jackson, M.D., Physical Medicine/Rehabilitation, The Ohio State University Medical Center
Rosiland Batley, M.D., Clinical/Physical Medicine/Rehabilitation, Children's Hospital, Columbus, Ohio
We have developed a virtual-structure prototyping system that allows navigation by a person using a power wheelchair. The system is a tool for three groups of people:
for architects and designers, it provides structure previsualization and analysis that can both improve the handicapped accessibility of building designs and test a structure for the compliance with the Americans with Disablities Act of 1990, which requires handicapped accessibility for (almost) all public structures; for wheelchair users, it provides more appropriate device fitting and training with wheelchair control systems; and
The system consists of an instrumented, joystick-driven power wheelchair connected to a high-performance graphics workstation (Silicon Graphics CRIMSON VGXT); it simulates the actual speed and maneuverability of the particular wheelchair within a virtual structure. The display generates realistic interiors containing multiple light sources and surface textures and is viewed in stereo through lightweight polarized glasses. The system maintains a hierarchical data structure that detects collisions between the virtual wheelchair and the environment.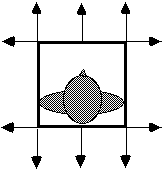 Figure 1: 10 vectors used to calculate chair collisions.
In 1995, collateral funding was obtained through the United States Air Force SBIR program. In collaboration with Immersion Human Interface Corporation of San Jose, California, the project, Commercially Viable Force Feedback Controller for Individuals with Neuromotor Disabilities, investigates the use and efficacy of force feedback technologies for assisting disabled individuals in controlling a power chair in a virtual environment. Two primary modes of operation were supported for the joystick: passive and active. In passive mode, the joystick will discourage the driver from going toward obstacles by making it harder to push the joystick in those directions. For example, if the user is moving down a narrow hallway, the joystick will allow travel only forward or backward and will restrict the driver from steering close to a wall. Active mode allows the joystick to exert a force that will guide the user toward a less congested area. Thus, as a user drives toward an obstacle, the joystick will provide a moderate force to actually guide the users's hand to move the joystick and steer the chair away from the obstruction. We see this research providing assistive technologies to individuals with specific disabilities such as spastic hand movements and dim vision.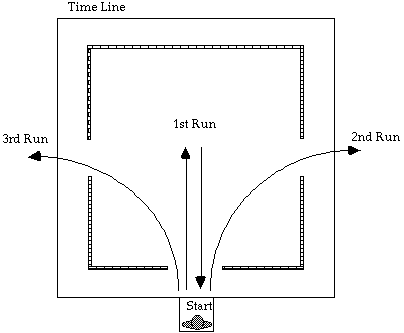 Figure 2. Plan view of virtual environment and steering tasks.
Pilot trials were run at OSC. Subjects included individuals with disabilities of varying severity and individuals from the non-disabled population. Simple steering tasks were performed and evaluated. Individuals were asked to navigate through a simple environment using a joystick controller. The hypothesis is that force feedback technologies can provide significant improvements in user performance.

(Click on any image for movie)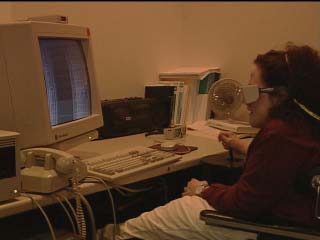 Progress
To date, we have developed a robust system that provides previsualization of architectural data sets and assists in assessment for ADA compliance. In addition, the system provides an immersive environment for users to train themselves in the use of a power chair, therefore limiting the application of unsuitable technology that may never be fully, or even partially utilized. Current efforts include the completion of a communications protocol to allow a health care provider, working on a remote machine, to place moving objects into the path of the user. Currently, the system tracks and records specific tasks, performance time, and number and exact location of collisions, e.g., front -right, back-left. Recording collision positions is useful in assessing cognitive disorders such as side neglect. Additional tracks will include reaction times, and location of the object upon initial reaction in relation to the user's field of view.
---
Acknowledgments
This research is supported by a grant from the National Institute on Disability and Rehabilitation Research. We would like to acknowledge Invacare Inc. for the Action(TM) power wheelchair, Silicon Graphics for technical assistance and numerous equipment loans, and Autodessys, Inc. for the donation of Form ZTM to incorporate the architectural data sets. Additional funding comes form the United States Air Force, Award #F41624-95-C-6019, and Immersion Human Interface Corporation, San Jose, California.
In addition, we wish to thank all the individuals from The Ohio State University Rehabilitation and Engineering Center, the Advanced Computing Center for the Arts and Design, the Department of Orthopedics at Children's Hopital, Columbus, and OSC.
Further Reading
Assessing User Proficiency Through Virtual Simulations. Stredney D, Yagel R, Carlson W, Moeller T, Shih PW, and M Fontana,
to be presented at RESNA '97 on June 24, 1997, Pittsburgh, PA.
The Determination of Environmental Accessibility and ADA Compliance Through Virtual Wheelchair Simulation
Stredney D, Carlson W, Swan JE, and Blostein B., Presence: Teleoperators and Virtual Environments, Vol. 4, No. 3, Summer 1995, pgs. 297-305.
The Application of Virtual Wheelchair Simulation to the Determination of Environmental Accessibility and Standards Compliance in Architectural Design
Carlson W, Swan E, Stredney D, Blostein B, Proceedings of the Symposium on Computers & Innovative Architectural Design, The 7th International Conference on Systems Research, Informatics & Cybernetics, Baden-Baden, Germany, August 18, 1994
The Determination of Wheelchair User Proficiency and Environmental Accessibility Through Virtual Simulation
Swan E, Stredney D, Carlson W, Virtual Reality and Persons with Disabilities, Presented June 8-10, 1994, California State University, Northridge Center on Disabilities