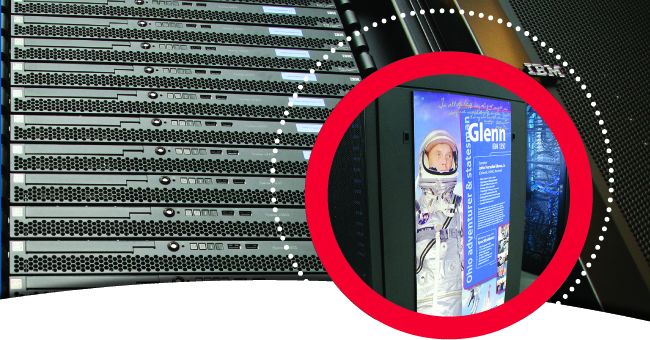 "By working together to meet the computation, storage and software needs of our clients, OSC helps to empower the next wave of scientific breakthroughs."
Kevin Wohlever,
Senior Director of Supercomputing, OSC
The future success of U.S. economic competitiveness is inextricably linked to the increased application of high performance computation to solve challenging design, engineering and research problems through modeling, experimentation and analysis.
The Ohio Supercomputer Center provides researchers a full spectrum of cyberinfrastructure resources through its flagship IBM Cluster 1350 supercomputer, mass storage systems, software library and dedicated support services. A $4- million expansion to the "Glenn Cluster" was launched in 2009 to address to bioscience and other research targeted by the state. The combined system offers researchers peak computational capabilities of 9,500 cores, 75 Teraflops and 24 Terabytes of memory.
In addition to state-of-the-art hardware, OSC maintains more than 30 software applications and provides access to more than 70 different software packages, including OpenFOAM for computational fluid dynamics, LS-DYNA for structural mechanics and Parallel MATLAB for numeric computation and visualization. OSC partners with research groups to develop advanced software codes and novel computational methods to unravel complex scientific challenges.
A crucial element of computational leadership is teaching users how best to harness the power of computational modeling and simulation to achieve research goals. OSC provides workshops to guide faculty, industry and student researchers on the efficient use of its systems.
For more information, see: www.osc.edu