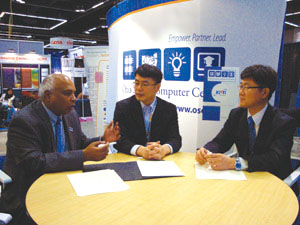 OSC's Ashok Krishnamurthy meets with representatives of Korea Institute of Science and Technology Information (KISTI), cementing a productive alliance that includes jointly developing innovative tools, web portals and expertise on open-source software deployment to industrial clients.
Advanced modeling, simulation and analytics is a transformative set of technologies that can impact all aspects of a business enterprise. These new technologies are used to benchmark and enhance product design, safety and performance using virtual engineering and testing that replace costly and time-consuming physical processes. They also can help to optimize plant and facility design, and promote efficiency and utilization, while reducing waste.
OSC's Blue Collar Computing (BCC) program represents one of the nation's first formal industrial outreach initiatives dedicated to advanced modeling, simulation and analytics. Introduced in 2004, the BCC program offers industrial clients the advanced modeling and simulation resources, training and expertise they need to compete in a global economy. To date, more than 30 companies and organizations have taken advantage of the portals, application hosting and computation offered by OSC.
BCC offers large-systems access to experienced industrial users who need peak performance for specific tasks and industry-specific web portals for users new to advanced computation. For example, the Edison Welding Institute WeldPredictor portal, a web-based interface created by OSC and EWI, is now offered as a free service to more than 2,800 EWI members. Information entered and retrieved from the site allows welding engineers to simulate "virtual" welds, reducing the time and material wasted with physical prototypes.
In addition to its portals with EWI and PolymerOhio, the Center has worked hard to forge relationships with industry integrators and international companies to further extend its applications, training and services:
OSC's agreement with the Korea Institute of Science and Technology Information (KISTI) cements a productive alliance that includes jointly developing innovative tools, web portals and expertise on open-source software deployment to industrial clients.
 
As an extension of its partnership with PolymerOhio, OSC signed a memorandum of understanding with Taiwan's Cortex that will include donations of educational engineering simulation software licenses to demonstrate the performance of the firm's 3-D part/mold simulations for industry certificate use.



"Modeling, simulation, and massive data analysis are the next huge game-changing drivers for innovation"

– Deborah Wince Smith, President,
Council on Competitiveness

In exchange for adding Sciences Computers Consultants' XimeX software to OSC's systems for scalability testing and small pilot projects, OSC has provided the French company with resources to test and scale advanced modeling and simulation software for polymer extrusion and mixing on its supercomputers with the intent of developing advanced web portals.
 
Building on an earlier collaboration under a Defense Advanced Research Projects Agency contract to create real-time modeling solutions for military suppliers, Nimbis Services and OSC will provide a strategic regional customer supply-chain incubator and domain-specific web portals to serve underserved markets, coined the "HPC Gap" or "Missing Middle," where large groups of industry users have not had access to advanced computational resources.
 
Building off of a successful Ohio Third Frontier award, OSC received a National Science Foundation EAGER grant to work with Fireline TCON Inc., a ceramics manufacturer, and the Center for Excellence in Advanced Materials Analysis at Youngstown State University to integrate advanced modeling and simulations into the company's processes to boost its productivity.
OSC has been collaborating with industry consortia to leverage its digital manufacturing advances in the national arena. OSC and PolymerOhio received a National Institute of Standards and Technology (NIST) competitive award to build a national model from integrating computation resources into the Ohio Manufacturing Extension Partnership (MEP) system. OSC is also a member of the Alliance for High Performance Digital Manufacturing (AHPDM), supporting small- and mediumsized enterprises (SMEs) by promoting the development of a national digital manufacturing strategy and an innovation network and the Council on Competitiveness HPC Users Group that supports the need to make American manufacturing more competitive through increased use of modeling, simulation and analytics.
There is a fundamental gap between high-end and low-end computing usage, which is creating a drag in productivity, innovation and competitiveness.
The term "missing middle" describes the large groups of industry users who do not have access to advanced modeling, simulation and analysis resources essential to their business survival. Since the Blue Collar Computing's inception in 2004, OSC has targeted this segment in its industrial outreach efforts.
While discovery-level advanced modeling, simulation and analysis tools have been used with great success by some large industries, many small- and mediumsized companies have not advanced beyond using entry-level computational systems. The gap between these two extremes, the missing middle, represents an enormous productivity opportunity for the nation. Many of these companies are desktop users who may develop simple models, at best, relying instead on traditional experimentation methods to build prototypes.
The missing middle represents an important opportunity to bolster U.S. economic competitiveness. Through advanced modeling, simulation and analysis or digital manufacturing, public and private collaborations, and federal support, this "HPC Gap" can be filled for greater productivity.
Learn more about Blue Collar Computing