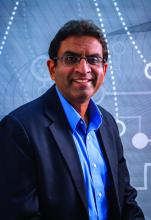 Pankaj Shah is the executive director of the Ohio Supercomputer Center (OSC) and Ohio Academic Resources Network (OARnet). For more than 25 years he has committed himself to the IT infrastructure and broadband initiatives through work in private, public, research and education community, identifying trends in high-speed data transfer, videoconferencing and hybrid networking.
As a leader committed to bringing Ohio the best in supercomputing, networking and IT capabilities, Shah searches for ways to consolidate and standardize the organizations' shared services and expand their capabilities. Under Shah's leadership, OARnet has helped Ohio become a broadband state with an expansive network backbone and research and education services while partnering with private sector to create economic development opportunities.
Prior to working as OARnet's executive director Pankaj Shah served as:
Director of infrastructure for IT services, Marquette University
Engagement manager, Resource One Computer System
Senior manager, American Society for Nondestructive Testing (ASNT)
Division of track manager, New York City Transit Authority (MTA)
Computer science department systems administrator, City University of New York
Shah also served a previous tenure at OARnet, creating and managing the Internet2 Technology Evaluation Center (ITEC-Ohio) and as a partner in the Transportable Satellite Internet System.
Shah represents OARnet on the board of Internet2 and the Ohio Digital Government Summit. Additionally, Shah has served on OhioLINK's Advisory Board, The Quilt and Internet2's governance and nominations committee, the steering committee of StateNets and contributed to the Encyclopedia of Distance Learning, 2nd Edition.
Shah received a diploma in mechanical engineering, as well as certification in advanced tool technology, from S.B.M Polytechnic in Bombay (Mumbai), India. He earned his master's degree in computer and information science from Brooklyn College, City University of New York. He most recently received his executive MBA from the Fisher College of Business at The Ohio State University.
Organization:
Ohio Supercomputer Center and OARnet