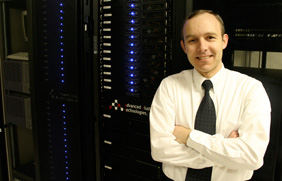 Toll Free: (800) 686-6472
Local: (614) 292-1800
Email: oschelp@osc.edu
1224 Kinnear Road, Columbus, OH 43212
Hours of Operation
9 a.m. – Noon and 1 p.m. – 5 p.m. Monday through Friday, except on OSU holidays
The OSC Help service of the Ohio Supercomputer Center consists of technical support and consulting services for OSC's high performance computing resources. Members of OSC's Science and Technology Support group staff the Help service.
Before contacting OSC Help, please check to see if your question is answered in either the FAQ list or the computing pages on http://www.osc.edu/supercomputing. Many of the questions asked by both new and experienced OSC users are answered in these web pages.
To have your problem analyzed, you must provide the OSC Help consultants the following minimum:
Your name and userid
On which systems you are experiencing problems.
A description of the problem you're experiencing.
Which language or application you're using, if applicable.
A job id number from PBS, if applicable.
Do not send your password to OSChelp, or to anyone, by e-mail.
Other information and files which are often helpful to the consultants if available and not too big (i.e. under 200 lines or so) include:
Input files
Job scripts and output
Compiler messages and/or listings
Source code fragments
Things you've tried to do to fix or work around the problem
Please cut and paste this verbatim rather than trying to summarize or paraphrase them. It is also better to provide too much information rather than too little, although multi-megabyte messages are strongly discouraged.
If you e-mail OSC Help the location of a file, set the permissions of the file to be world readable (eg. chmod a+r filename) and set the permissions of the directory hierarchy containing the file to be world readable and executable (eg. chmod a+rx directory). This is necessary because the consultants do not have administrator access to the supercomputers.
Via email, you should receive an acknowledgment of your problem report within a couple of hours. If you do not, this may mean that the consultants are in meetings or otherwise away from their workstations. If you do not receive an acknowledgment of your report after two business days, please send it again and include the date the initial report was sent.
If it is an urgent matter, please call the OSC Help Support telephone number listed at the top of this page.