A Special Interest Group of the Columbus Computer Society
 
---
Our group currently consists of experienced and novice users and programmers from the central Ohio area. WELCOME to all Java users and developers as well as users or developers of Open Source software.
---

Electronic Mailing List
Though every effort will be used to keep it up to date, the meeting schedule is subject to last minute changes.
Go to the URL, http://lists.oar.net/mailman/listinfo/ccsjoss
to subscribe (or unsubscribe) to our electronic mailing list.
Subscribers can send list postings to: ccsjoss@lists.oar.net
---
Monthly Meetings
Meetings are normaly held in the OSC BALE conference facility on the third Thursday of each month (except December). The starting time is 7:00pm and the meetings last until around 9:00pm. We usually go out for dinner afterwards to some local establishment.
BALE is on the WEST side of the OSC building. The west entrance is the main entrance for the meetings. You will probably have to KNOCK ON THE WINDOWS TO THE RIGHT OF THE DOOR.
The Ohio Supercomputer Center is located at 1224 Kinnear Road in Columbus Ohio (see map).
---
How to get to The Ohio Supercomputer Center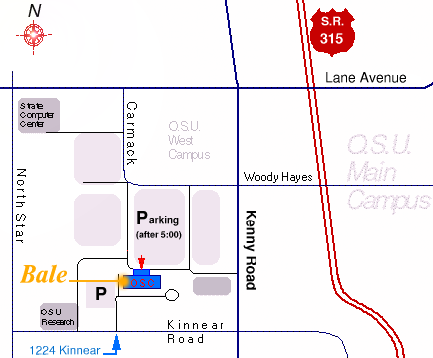 The Ohio Supercomputer Center is located near the Lane Avenue exit of State Route 315 in Columbus, Ohio. Take Lane Avenue west past Kenny Road to Carmack Road and turn left. Then take Carmack all the way to the first stop sign and continue straight into the parking lot. Parking without an OSU decal is allowed in the OSU parking lot after 5:00 pm.