OnDemand is our "one stop shop" for access to our High Performance Computing resources. With OnDemand, you can upload and download files, create, edit, submit, and monitor jobs, run GUI applications, and connect via SSH, all via a web broswer, with no client software to install and configure.
We've created a brief video explaining OnDemand's capabilities so users can better gauge if it is the right fit for them.  Getting connected to OnDemand is also explained in this video.  We've also created tutorial videos for OnDemand's Job client and file management client.
System Requirements
Currently, the site is confirmed to work with newer versions of Chrome (22+), Firefox (16+), and Internet Explorer (9+). We are still working to expand availability to additional clients, and are planning on including compatibility for mobile devices (phones and tablets) in the future. Java 1.6 or better is also required, for access to desktops on Oakley or Glenn.
Connecting
To connect to OnDemand, visit http://ondemand.osc.edu/catalog and log in using your HPC credentials. You will be presented with the following home page after logging in. 

If you are accessing OnDemand in a smaller sized browser window you may be presented with a slightly different looking top menu.

All submenus are still accessible in this view through the drop down menu on the top right corner.
At this point, you can begin accessing the tools in OnDemand.
Shell access
OnDemand provides the ability SSH to Glenn or Oakley from inside your web browser. To get to a terminal, select the "Clusters" menu and choose either Oakley or Glenn.

Please note that this action will open a "pop-up" window. If your browser is configured to block pop-ups, you will not see the terminal. 
Configuring Pop-up Settings
If your browers is configured to block pop-ups, use the following guide to allow all pop-ups from OnDemand.  You will first need to attempt to open a shell to bring up the following windows.  If you have previously configured the pop-up settings for OnDemand you may need to open your settings page to make the appropriate settings.
Internet Explorer
To configure Internet Explorer to always allow popups from OnDemand, select "Always allow" under the "Options for this site" menu at the bottom of the screen.

Chrome
To configure Chrome to always allow popups from OnDemand, click the "Pop-up blocked" icon to the right of the address bar.  Select "Always allow pop-ups from ondemand.osc.edu" and click Done.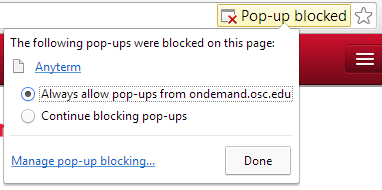 Firefox
To configure Firefox to always allow popups from OnDemand, select the Options button at the top of the screen and click "Allow pop-ups for ondemand.osc.edu."

Safari
To configure Safari to allow popups, go to Safari -> Preferences -> Security and uncheck "Block pop-up windows."
File Transfer
Move data on and off of OSC storage services. To use the file transfer client, select "Files" in the main menu. For more information, please visit the file transfer and management page.
Job management
Create, edit, submit, and monitor jobs. To access the job management tools, use the "Jobs" menu. For more information about the tools please visit the job management page.
Get a desktop
Request a desktop to run GUI applications, without the hassle or performance problems associated with X11 forwarding. To access one, please select "Glenn Desktop" or "Oakley Desktop" from the "Apps" menu. A small "JNLP" file will be downloaded; execute that file in Java and it will open a desktop on the HPC system selected.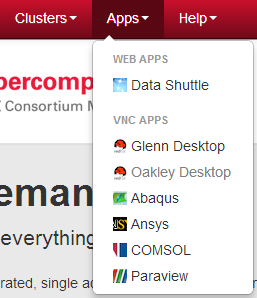 The Desktop Applications should not be used for computationally or memory intensive processes. OnDemand is a shared resource, and there are other users on the same node.  Such processes will be terminated.  Please submit such work to the batch system using a batch script.
Access Portal applications
Run any of our web portal applications, available via the "Apps" menu.  Currently there is access to Abaqus, Ansys, COMSOL, and Paraview.