Highlights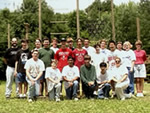 Overview Participants Projects Schedule
Overview
Students stepped into the world of high-performance computing and networking at the Ohio Supercomputer Center (OSC) during this residential program. Students explored scientific investigation through collaborative team projects and intensive classes. Ohio high school teachers also participated in this program.
Thank you to the SI1997 corporate sponsors:
Each SI student participated in a team project. The number of students in a group varied between three and four. The students selected their own teams, elected a project leader, and chose a project.
This years projects included: 
The final results of each project were copied to video tape and distributed to the students at the end of the Summer Institute.
Click here to download a detailed schedule.