COLUMBUS, Ohio (

Jun 27, 2007

) —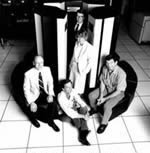 Empower. Partner. Lead. These are the philosophies and actions that define the Ohio Supercomputer Center's two decades of innovation and service. And, as 2007 marks the Center's 20th anniversary, the mission to empower, partner and lead state and national partners will guide the Center as it forges ahead as a center of excellence.
Established by the Ohio Board of Regents in 1987, the Ohio Supercomputer Center is nationally known for providing supercomputer resources, a robust networking infrastructure, training and staff support to an array of diverse academic, government and private industry research projects, ranging from medical imaging to weather forecasting; from disciplines like biomedicine and chemistry to physics and engineering.
"The Ohio Supercomputer Center has continually evolved during its 20 years. Today we provide our clients with a sophisticated public cyberinfrastructure, including high-performance computers, advanced networking, research partnerships and targeted training," said Stanley C. Ahalt, executive director of OSC.
"It's our challenge to promote and stimulate computational research and education, thereby enabling our clients to reach their goals in advanced technology, information systems, and advanced industries," Ahalt said. "We partner with Ohio universities and industries, serving as a key resource when Ohio competes for international, federal, and state funding and new economic development opportunities."
During its first 10 years, OSC focused primarily on providing high quality computing and networking services to its users. Recently, OSC has expanded its role to provide high performance computing and networking groups with leading-edge research and education resources.
For example, OSC's Blue Collar Computing program offers high performance computing to industries that do not have the expertise or time to be a supercomputing incubator or research new high performance applications, the Ralph Regula School of Computational Science provides a virtual, statewide school focused on computational science, and the Center's shared instrumentation project enables higher education and industry to share expensive technology resources at remote locations, such as an electron microscope, via OSCnet.
At the Beginning
OSC founding Director C. William McCurdy, former Ohio Board of Regents Chancellor William Coulter, Gov. Richard F. Celeste and a small group of scientists and engineers drove the Center's creation; they determined that Ohio must have a statewide supercomputer resource to place Ohio's research universities and private industry in the forefront of computational research.
McCurdy called the establishment of the Center "a critical step in moving Ohio to a leadership position in both applied and basic research" during the dedication ceremony of the first supercomputer, a Cray X-MP.
The Cray X-MP was one of the fastest computers in the world, able to calculate 200 times faster than many mainframes at that time. Today, OSC is a fully scalable center with a variety of mid-range machines to match those found at the NSF centers and national labs, including this summer's installation of an IBM 1350 Cluster.
"The Cray Y-MP, which was added to the X-MP in 1989, was incredibly expensive, and arguably the biggest, best, most powerful computer at the time," said Paul Buerger, leader of OSC systems and operations and one of several employees who have been with the Center since its inception. "With the installation of the Cray supercomputers, OSC was providing researchers with access to something no one else had."
But before that, McCurdy needed to build excitement and momentum in the academic community. Kevin Wohlever, who today serves as an OSC project technical leader, remembers driving around the state with McCurdy to other universities. They met with researchers and sold them on the idea of state universities sharing supercomputing resources across a network, which was very unique at the time.
"Everyone was so excited when the first equipment was delivered; it made all of our hard work in developing support for the center tangible," Wohlever said.
Also in 1987, OSC Networking, then called OARnet, provided the first network access to the supercomputer. At the time, network access was available only within Columbus boundaries. Today, OSCnet is the nation's most advanced dedicated high-speed fiber-optic network for K-20 education, public broadcasting, research and economic development.
"Developing our network is easily what I'm most proud of during my tenure here, so far," said Paul Schopis, director of network engineering and another long-term employee.
OSC acquired dark fiber, or unlit fiber-optic cable on existing networking cables, and moved OSCnet (previously known as the Third Frontier Network) services onto the new line. While technology operations routinely acquire dark fiber to create new networks today, OSCnet was one of the first adopters prior to the network's launch in 2004. This foresight and innovation enabled OSCnet to create one of the most comprehensive statewide networks in the United States, with more than 1,600 miles of scalable backbone network to the Center's extended base of clients, from K-12 schools to colleges, hospitals to public broadcasting stations.
Thriving With Change
"The development of networking and the Internet has been an incredible thing to witness," said Sam Bair, OSC software manager, who joined OSC in 1988. "I used a DEC VT220 to connect through a terminal server to our Cray X-MP. The laptop machines we now use to connect to our supercomputers now make the X-MP seem like a toy. My first business card had my DECnet and Bitnet email addresses but no Internet address."
OSC employees have consistently adapted to new technologies and sought ways to share their knowledge with OSC clients.
"In my nearly 20 years here, we have had nearly that many computational environments," said Leslie Southern, director of supercomputing. "With each advance in technology, we design training modules that both ease the transition to the new environments and focus on the additional capabilities that the environment has to offer.
"We adapt our training modules for both experienced and inexperienced computational scientists and engineers, and we now offer them in a number of formats," Southern said. "Today, computational chemistry concepts are integrated with web-based applications, and podcasts are available to introduce computational science and engineering.
"I am proud to know that OSC has played a role in the advancement of computational science and engineering in Ohio," Southern said. "The Center has helped Ohio scientists and engineers investigate new worlds with supercomputing, and it has been part of attracting distinguished researchers to Ohio and retaining graduate students as their careers advance."