COLUMBUS, Ohio (

Sep 29, 2009

) —
Two senior directors of the Ohio Supercomputer Center have been appointed to leadership positions as interim co-directors of the statewide technology organization located on the West Campus of The Ohio State University.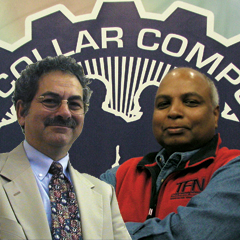 Steven Gordon, Ph.D., senior director of education and client support, and Ashok Krishnamurthy, Ph.D., senior director of research, take the OSC helm on an interim basis following the recent departure of former executive director Stanley C. Ahalt, Ph.D. In August, Ahalt accepted an appointment as director of the Renaissance Computing Institute in North Carolina.
OSC (www.osc.edu) was established by the Ohio Board of Regents in 1987 as a statewide resource designated to place Ohio's research universities and private industry at the forefront of computational research. Today, OSC is a fully scalable center with mid-range machines comparable to those found at many National Science Foundation centers and national labs.
"We are very fortunate to have such well-respected professionals as Steve and Ashok ready to step in and provide stability and leadership at this time of transition for OSC," said Caroline Whitacre, vice president for research at Ohio State. "They provide the exceptional vision and experience necessary to strategically position the Center to advance the research and economic development efforts of the university and the entire state of Ohio."
Gordon brings considerable experience in computational science economic development and education, while Krishnamurthy possesses an extensive understanding of supercomputing and cyberinfrastructure.
Krishnamurthy serves as an associate professor in the electrical and computer engineering department at OSU. He conducts research in signal/image processing, high performance computing, parallel high-level language applications and computational models of hearing.
Earlier, Krishnamurthy served as the academic lead for the Department of Defense (DoD) High Performance Computing Modernization Program in the Integrated Modeling and Test area. He has designed and provided training courses for DoD user groups on all aspects of the MATLAB programming language.
On an entrepreneurial leave of absence from OSU, Krishnamurthy started a design center in Dublin, Ohio, for Ecrio Inc., a Silicon Valley startup. He led a team of engineers at the design center in developing wireless and handheld communication applications.
Krishnamurthy earned his bachelor's degree in electrical engineering from the Indian Institute of Technology in Madras, India, in 1979. He received his master's degree and doctorate in electrical engineering at the University of Florida in 1981 and 1983, respectively.
Gordon previously served as deputy director of OSC from 1997-2003 and is the founding director of the Ralph Regula School of Computational Science. With funding from the Ohio Board of Regents and several grants from the National Science Foundation, the school has built inter-disciplinary, inter-institutional programs for computational science education. Currently 14 Ohio institutions share a computational science undergraduate minor program that started in 2007, while an associate degree program and a certificate program began in 2009.
Gordon also has played a significant role in several programs in science, technology, engineering and mathematics (STEM) education for high school and middle school students. Those include the STEM Academy in Computational Science and Engineering and the Young Women's Summer Institute. He also oversees training programs for OSC users and has led workshops for undergraduate faculty and graduate students at OSC and nationally.
As a professor of city and regional planning at OSU, Gordon teaches courses in geographic information systems and environmental modeling and conducts research in watershed modeling and management.
Gordon graduated cum laude from State University of New York at Buffalo with a bachelor's degree in geography. At Columbia University, he earned his master's degree and doctorate, both in geography with a specialization in environmental systems.
_________________
The Ohio Supercomputer Center (OSC) is a catalytic partner of Ohio universities and industries, providing a reliable high performance computing and high performance networking infrastructure for a diverse statewide/regional community including education, academic research, industry, and state government. OSC promotes and stimulates computational research and education in order to act as a key enabler for the state's aspirations in advanced technology, information systems, and advanced industries. For more, visit http://www.osc.edu