CLEVELAND, COLUMBUS, Ohio (

Sep 11, 1995

) —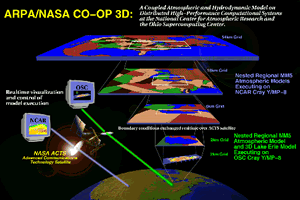 The Ohio Supercomputer Center (OSC), the OSU Advanced Computing Center for the Arts and Design (ACCAD), and the National Center for Atmospheric Research (NCAR) in Boulder, Colorado, are participating in the first-ever public demonstration of the high data rate capability of the National Aeronautics and Space Administration's (NASA) Advanced Communications Technology Satellite (ACTS).

The September 13 demonstration at 10 a.m. is part of the NASA ACTS Results Conference being conducted at the Stouffer's Renaissance Hotel in Cleveland, Ohio, September 11-13, 1995.
The project, code-named Viento, joins NCAR, OSC, ACCAD, and the Great Lakes Environmental Research Laboratory (GLERL) in an ACTS experiment sponsored by the Advanced Research Projects Agency (ARPA). It couples two CRAY supercomputers separated by 1200 miles using the world's first gigabit satellite network anchored by ACTS high data rate earth stations located in Boulder and Columbus. These computers will operate in a parallel manner and will integrate two large-scale simulation weather models.
The first model (running primarily at NCAR) uses atmospheric conditions as input to simulate changing weather conditions over Lake Erie. The second model (running at OSC) uses the changing Lake Erie weather conditions to predict the evolution of physical lake conditions. A third site (GLERL in Ann Arbor, Michigan) will provide input data and feedback from scientists. By exchanging boundary data between the models, the models can work together to provide forecasts of changing weather patterns around Lake Erie. This will be the first time that both coastal circulation and wave models have been two-way coupled to a mesoscale atmospheric model for the study of an inland or ocean coastal water body.
According to Wayne Carlson, ACCAD Director, "By making use of ACTS' high data rate transmission capability (620 megabits/second), scientists are able to run interacting numerical models at widely separated supercomputing locations; instantly visualize output from the running models at all participating sites; and interact with each other in real time through video conferencing technology."
ACCAD has a 24 year history of research and instruction in computer graphics and animation with a true interdisciplinary character.
NCAR serves the specialized needs of the university research community and focuses on important atmospheric research problems that require major commitments of resources and a wide range of scientific talent over extended periods of time.
Since 1987, OSC has been positioning Ohio universities and industries at the forefront of computationally intensive research, networking, and engineering.