COLUMBUS , Ohio (

Jan 19, 2023

) —
The Ohio Supercomputer Center (OSC) has officially launched Ascend, its new high performance computing (HPC) cluster designed to accommodate the growth of client work in the areas of artificial intelligence (AI), data analytics and machine learning.
Academic and commercial clients may now request time on the Dell Technologies-based cluster, which complements the computing power of OSC's existing Pitzer and Owens clusters. Ascend is OSC's first-ever dedicated graphics processing unit (GPU) platform, which features advanced NVIDIA GPUs.
"OSC developed Ascend in response to discussions with our client community, stakeholders and vendors, who identified an immediate need for greater GPU resources to process research and simulations that rely on AI, big data and machine learning," said David Hudak, executive director of OSC. "We are pleased to be able to offer this major new resource to the HPC community and support client advancements in academic research and commercial technologies."
Comprised of Dell PowerEdge servers with 48 AMD EPYC™ CPUs and 96 NVIDIA A100 80GB Tensor Core GPUs supercharged by NVIDIA NVLink and interconnected by the NVIDIA Quantum 200Gb/s InfiniBand platform, Ascend triples OSC's capacity for AI, modeling and simulation. The new system adds 2 petaflops (PF) of peak, theoretical performance to the Center for a total of 7.5 petaflops, with more than 20 petabytes of disk storage capacity and more than 23 petabytes of expandable backup storage.
Although Ascend is smaller than the Pitzer and Owens clusters, with just 24 compute nodes, "its peak performance is on par with all of the other systems, and that's mainly because of the performance that the GPUs add to these nodes," said Doug Johnson, OSC associate director.
The Ascend cluster allows clients to quickly move data externally through 25 Gbps Ethernet network interfaces and internally using NVIDIA's Quantum platform with in-network computing capabilities, Johnson said.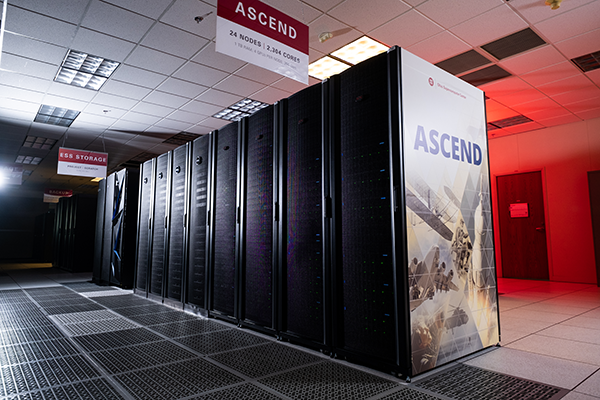 "OSC's client services and scientific applications teams will be available to help our clients determine if their applications can make good use of the Ascend GPUs," Johnson said. "For some applications there is a large performance benefit for using the GPUs and Ascend will make it possible for our clients to tackle some problems that can't be solved on our current systems."
OSC tested Ascend from late October to mid-December with a select group of clients to review the performance of the system and solicit feedback from users.
"Part of the goal of the early-user period was to get a better understanding of how the user applications make use of the GPUs that we are supporting in the system," Johnson said. "We will continue to improve the software and management of the system as we learn more from what we encounter supporting the early users and operating the system for a longer period of time."
Yu Su, an assistant professor in the Department of Computer Science and Engineering at The Ohio State University, used Ascend during the early testing period for several research projects in the area of natural language processing. Ascend's NVIDIA GPUs allowed Su to use BLOOM-176B, one of the largest neural network models, for the first time on OSC's systems.
"Multiple other projects—ranging from question answering over large knowledge bases to knowledge-based reasoning and language interfaces to relational databases—in my group have been benefiting from the NVIDIA A100 GPUs on Ascend," Su said. "Students have reported double to triple the speed of processing compared with the A6000 GPU servers my group has."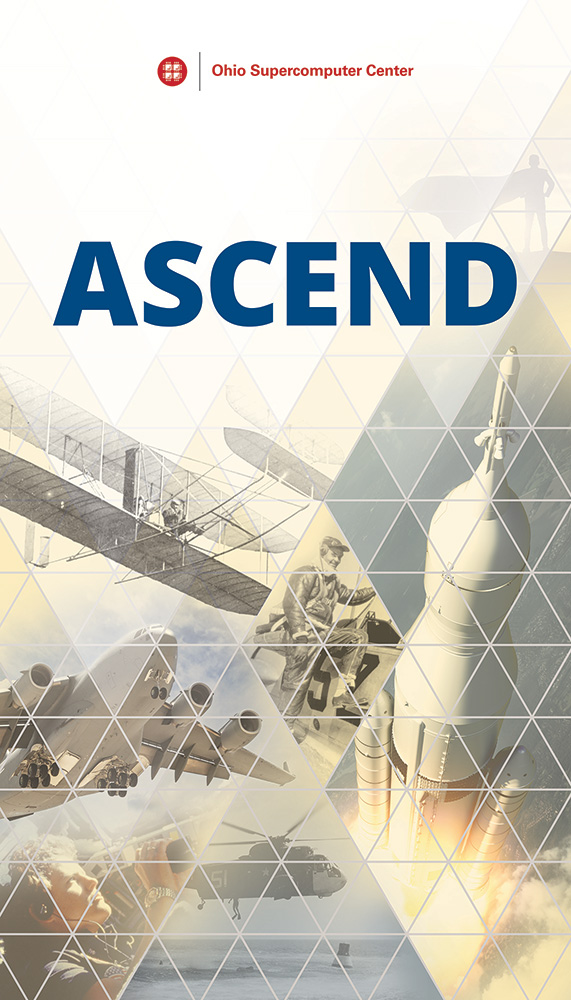 The name "Ascend" and the endcap graphic take their inspiration from Ohio's pioneering history in aviation and aerospace.
Bargeen Turzo, a graduate student in the Steffen Lindert computational chemistry group at Ohio State, found that Ascend could more quickly process jobs that predicted protein complex structures than the Pitzer cluster could.
"For some large proteins I was not even able to get a single prediction on Pitzer after running the calculation for multiple weeks," Turzo said. "While on Ascend the same calculation finished in 12 hours."
Ascend follows the same pricing structure as the Owens and Pitzer clusters. More information about Ascend's hardware, software environment, file systems, batch specifics and connection details can be found on the Ascend cluster page of the OSC site.
In addition to launching Ascend, OSC is in the planning stages of developing a high performance computing cluster that will replace its Owens cluster, slated for launch in 2023. The new cluster will initially run concurrently with Owens and complement Pitzer and Ascend.
Partner Statements:
"Dell Technologies is working with the Ohio Supercomputer Center to help industry and academic researchers pioneer in their respective fields with the latest in advanced computing technology and expertise," says Rajesh Pohani, vice president of PowerEdge, Core Compute and High Performance Computing, Dell Technologies. "Ascend's AI capabilities, enhanced by powerful PowerEdge XE8545 servers, will complement and significantly expand the advanced computing resources essential to engineering innovation and scientific discovery that is ultimately helping to move forward human progress."

"Modern scientific computing is pushing the boundaries of HPC and AI at scale," said Timothy Costa, Director of HPC and Quantum product at NVIDIA.  "As businesses continue to innovate and expand their portfolios, NVIDIA will empower OSC and other key researchers worldwide to advance engineering and scientific discoveries."

"AMD EPYC processors support researchers around the world with the performance and productivity needed to answer some of science's biggest questions," said Brock Taylor, director of high performance computing, AMD. "We're excited the Ascend supercomputer will help the Ohio Supercomputer Center advance their mission to advance levels of artificial intelligence, machine learning, big data and data analytics."
Inspiring OSC to "Ascend"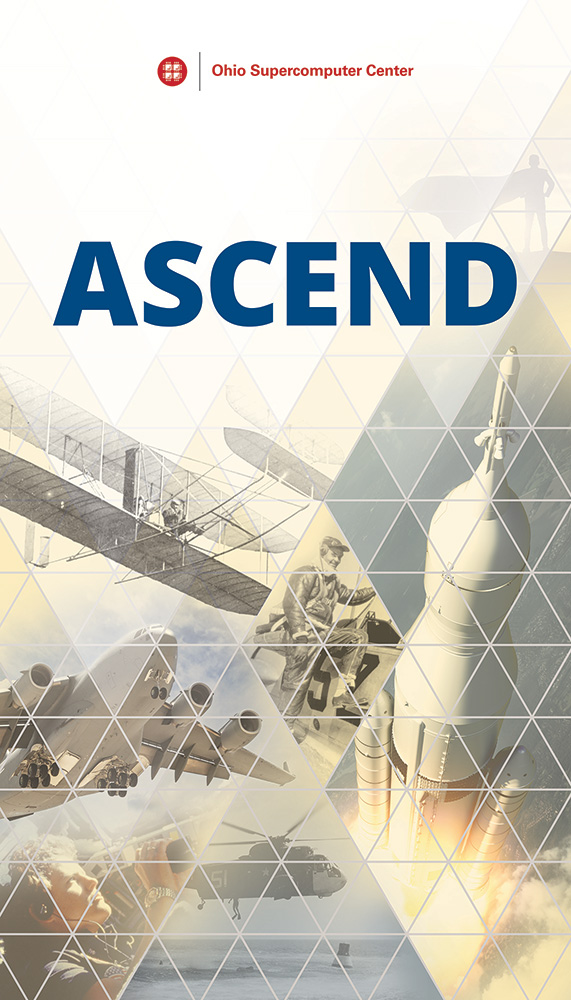 The Ascend endcap graphic depicts just a handful of Ohio's many aviation- and aerospace-related heroes and achievements. Collectively, these figures inspire all Ohioans to 'Ascend' to their highest potentials.
Starting with the most foundational inspiration, Orville Wright flying the Wright Flyer in 1908 to the left of the word 'Ascend.'
Beneath the Wright Flyer, a C-17 Globemaster airplane sails into the sky. Nine aircraft like the one pictured are stationed at Wright-Patterson Air Force Base in Fairborn, Ohio.
Moving further down along the left, Kathryn Sullivan peers out at the Earth from space. An astronaut, scientist and US Navy officer, Sullivan was the first American woman to walk in space and served as president and CEO of COSI in Columbus and Director of The Ohio State University's Battelle Center for Mathematics and Science Education Policy.
In the center of the endcap, Colonel Benjamin O. Davis, Jr. climbs into his fighter. An Ohio native and a member of the Tuskegee Airmen, Davis became the first African American Army Air Base commander when he took command of Columbus's Lockbourne Army Air Base following World War II.
Along the bottom, a Mercury space program reentry capsule, like the one Ohio native and Senator John Glenn returned to Earth in, floats in the ocean during a practice run.
Along the right, the Orion crew capsule at the top of NASA's SLS rocket in this illustration was tested extensively at the Neil Armstrong Test Facility at NASA Glenn Research Center in Cleveland.
Finally, in the upper right, a superhero serves as inspiration for all those working towards a better tomorrow. Superman's creators, Jerry Siegel and Joe Shuster, dreamt up the Man of Steel as high schoolers in Glenville, Ohio, in the Cleveland area.
Ascend represents the soaring possibilities of advanced technology combined with the earnestness and fortitude of Ohioans. As a major step forward for artifical intelligence, big data, modeling and simulation, Ascend will take Ohio's academic research and industrial discovery to incredible new heights.
About OSC: The Ohio Supercomputer Center (OSC) addresses the rising computational demands of academic and industrial research communities by providing a robust shared infrastructure and proven expertise in advanced modeling, simulation and analysis. OSC empowers scientists with the services essential to making extraordinary discoveries and innovations, partners with businesses and industry to leverage computational science as a competitive force in the global knowledge economy and leads efforts to equip the workforce with the key technology skills required for 21st century jobs.