COLUMBUS, Ohio (

Oct 19, 2023

) —
In 2019, the Milwaukee School of Engineering (MSOE) unveiled a major addition to its campus: the Dwight and Dian Diercks Computational Science Hall, featuring Rosie the supercomputer. The facility opened in the wake of the launch of MSOE's bachelor's degree in computer science, with a curriculum focused on the growing field of artificial intelligence.
Alumnus Dwight Diercks, who along with his wife Dian donated $34 million for the facility, has worked for the technology company NVIDIA since 1994 and today serves as its senior vice president of software engineering. MSOE worked closely with the company on assembling the necessary hardware and software for the supercomputer, which features NVIDIA graphics processing units (GPUs).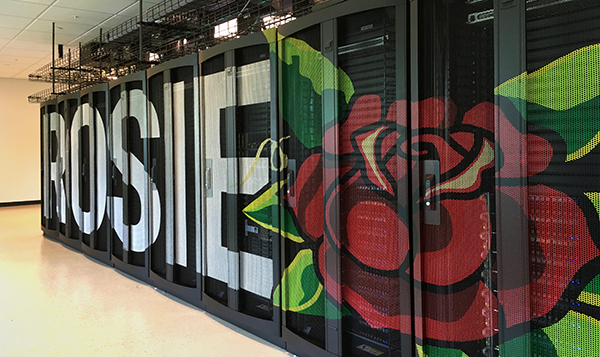 NVIDIA recommended that MSOE adopt the use of Open OnDemand, an open-source high performance computing portal developed by the Ohio Supercomputer Center (OSC). Open OnDemand is used by researchers and college students around the world to access supercomputing resources anywhere from any device.
Derek Riley, a professor and program director for electrical engineering and computer science at MSOE, reports that most of the jobs run on Rosie use the Open OnDemand portal. MSOE established the supercomputer primarily as a teaching tool for undergraduates studying machine learning and data science, and Open OnDemand has made it easy for them to directly access Rosie, Riley said. Students can avoid time-consuming technical setups and instead gain more experience using the supercomputer to answer a variety of scientific and engineering questions.
"It can't be overstated how important it is for students to focus on the problems we want them to learn," he said.
MSOE's approach to supercomputing also reflects the work environment that many students will find themselves in after graduation, as most employers have engineering teams that handle the more technical aspects of supercomputer setup and maintenance while the data scientists conduct analyses, Riley said.
Not only has Open OnDemand been beneficial for undergraduates to use, but MSOE's own system administrators have found it easy to learn and manage, Riley said.
"We've had a really great experience using it—we've been really happy with it," he said. "We've been able to use it primarily out of the box, and it's the main entry point for students and faculty to the cluster."
By Andrea Gibson
About OSC: The Ohio Supercomputer Center (OSC) addresses the rising computational demands of academic and industrial research communities by providing a robust shared infrastructure and proven expertise in advanced modeling, simulation and analysis. OSC empowers scientists with the services essential to making extraordinary discoveries and innovations, partners with businesses and industry to leverage computational science as a competitive force in the global knowledge economy and leads efforts to equip the workforce with the key technology skills required for 21st century jobs.