WENDOVER, Utah (

Aug 18, 2008

) —
Throughout Speed Week 2008, the Ohio State University Buckeye Bullet 2 team will be turning the pit area on the Bonneville Speedway into a temporary WiFi hot spot as they pursue the speed record for electric vehicles.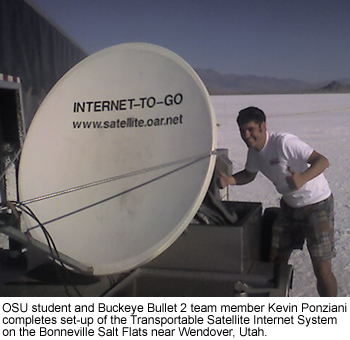 Internet connectivity on the salt flats is being provided through a mobile link-up to a satellite, providing the team with the means to update their blog and to post photos and videos on the website (http://blog.buckeyebullet.com/2008/08/on-salt.html). Wireless Internet access also will be made available to other racers and spectators in attendance at the remote venue.
The BB2 team is using the Transportable Satellite Internet System (TSIS), an initiative of OARnet, the OSU Office of the CIO, the Internet2 Technology Evaluation Center and the American Distance Education Consortium. OARnet provides network access and research services to Ohio's education community, ITEC-Ohio is a testing laboratory for the national networking community, and ADEC is an international consortium providing distance education programs and services.
The TSIS system features a small trailer that carries a 1.2-meter diameter dish receiver, plus related electronics. The trailer provides includes a local wireless capability, 24 ports of 10/100 Ethernet and a total speed of 1.5 megabits per second downlink from the satellite and 512 megabits per second uplink. The unit also contains a generator and batteries that can be accessed to run the system for more than 24 hours unattended.
The BB2 is the world's first hydrogen fuel cell-powered land speed streamliner. The long, low, cylindrical racer posted a single-run speed of 224 miles per hour — the fastest ever recorded for a fuel-cell powered vehicle – during the 2007 Racing World Finals, held in October at the Speedway.
The streamliner was designed and built entirely by OSU students at the Center for Automotive Research with the guidance and support of faculty and industry sponsors. Student team members tapped the resources at the Ohio Supercomputer Center – a sponsor of the streamliner – to simulate the shape of the carbon-fiber body and, using computational fluid dynamics, model the racer's aerodynamics prior to wind tunnel tests.
Buckeye Bullet 2 is expanding the legacy of its predecessor, the Buckeye Bullet 1, which employed electric batteries. BB1 holds both national and international land speed records at 315 miles per hour and 272 miles per hour, respectively.
Bonneville Speedway, situated on the Bonneville Salt Flats near Wendover, Utah, is particularly noted for the numerous land speed records that have been set there over the last century. The Southern California Timing Association and Bonneville Nationals Inc. organize Speed Week, which runs Aug. 18-24 this year. The event attracts hundreds of drivers who compete to set speed records in numerous categories.