COLUMBUS, Ohio (

Mar 31, 2012

) —
Columbus, Ohio (March 31, 2012) – Members of the Center for Surveillance Research wrapped up their first year of work with an advisory meeting earlier this week at the Ohio Union at The Ohio State University.
The Center for Surveillance Research (CSR) is a National Science Foundation Industry/ University Cooperative Research Center that was organized a year ago to develop a principled theory and advanced practice for modern surveillance systems. CSR is a collaborative effort by academia, government and industry to conduct pre-competitive research and student training for the next generation of technology leaders.
"The primary focus of this week's meeting was to review research projects conducted over the last 12 months and to consider proposals for new or continuing programs for the next year," said Alan Chalker, program manager for CSR, as well as director of Client Engineering for the Ohio Supercomputer Center (OSC). "Also, students involved in the program demonstrated the progress of their research projects during a poster session, interacting with numerous professionals in the field of surveillance."
In addition to participants from The Ohio State University (OSU), Wright State University (WSU) and OSC, the meeting drew surveillance specialists from the Air Force Research Laboratory, the Army Research Laboratory, SAIC, Etegent Technologies, Boeing and Raytheon.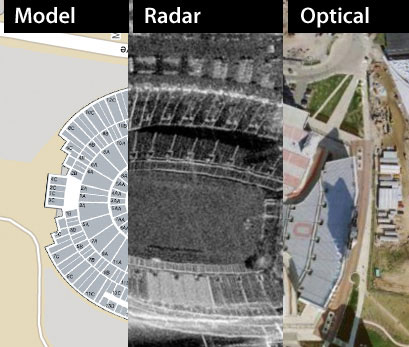 CSR members at the March 28-29 meeting also discussed strategies to expand participation to additional industry, government and academic organizations. Details on CSR activities, including affiliate membership benefits and requirements, can be found at csr.osu.edu or by contacting Chalker at alan@osc.edu.
The CSR partnership benefits from the strong and complementary nature of existing academic research programs at both OSU and WSU. In the surveillance area, OSU has strengths in video surveillance and machine learning, distributed sensor networks, hyper-spectral imaging, radar image exploitation, human factors, and multi-sensor integration. Wright State University brings expertise in information theory for automated threat recognition, radar system design – including waveform diversity and bistatic/multistatic systems and terahertz imaging and exploitation.
According to CSR, surveillance and situational awareness are critical technologies needed to address societal needs of safety and security. Surveillance is used to provide the nation with both international and homeland security, situational awareness for disaster mitigation/management and environmental monitoring. The key to addressing these crucial issues lies in the effective use of sensors and sensor systems. While individual sensor technology is advancing, there is a compelling need to understand composite surveillance systems. The challenge is to design quantitative tools that aid in designing surveillance systems to achieve particular inference goals and to develop a theory for predicting surveillance performance.
The Ohio Supercomputer Center (OSC) is a catalytic partner of Ohio universities and industries, providing a reliable high performance computing and high performance networking infrastructure for a diverse statewide/regional community including education, academic research, industry, and state government. Funded by the Ohio Board of Regents, OSC promotes and stimulates computational research and education in order to act as a key enabler for the state's aspirations in advanced technology, information systems, and advanced industries. For more, visit www.osc.edu.