COLUMBUS, Ohio (

Apr 16, 2008

) —
Meeting Documentation | Contacts | Sponsors | Press Release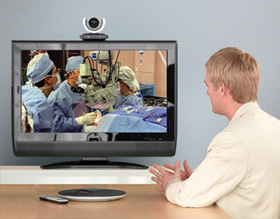 About the Meeting
Ohio Governor Ted Strickland convened a group of international experts on April 16, 2008, to discuss the needs and opportunities to create a Telehealth Video Resource Center in Ohio. The one-day working session was co-sponsored by the World Bank, Internet2 and the Ohio Supercomputer Center.
The Ohio Supercomputer Center has been a primary technical resource for many high-quality, health-related video experiences including Road Trauma conferences, live orthopedic surgeries, medical education sessions such as those offered by the John's Hopkins Center for Clinical Global Health Education and numerous activities supported by the World Bank. These activities have brought together experts from around the world including Tanzania, Egypt, Canada, Iraq, Brazil, Mexico and many other countries and have provided educational and clinical experiences that would not have been possible otherwise.
In addition, local, regional, and national advanced networks have developed the ability to provide health care and education in new and innovative ways For example, Nationwide Children's Hospital now provides neonatal care to rural and remote areas of Ohio to alleviate the need to transport distressed infants from their families and birth hospitals.
As the use of advanced networking increases within the health community, the need for high-quality, easy-to-use and well-supported video resources to support these activities is increasing. The expertise and technology is both expensive and difficult to acquire. The processes, and community-led prioritization of activities is also of importance.
The meeting was organized to develop a set of recommendations for developing a self-sustaining, world-class telehealth center that will have impacts worldwide.
Linda Flickinger Executive Administrator Ohio Supercomputer Center 614-292-9269 / 614-688-3184 lflick@osc.edu
Michael J. McGill, PhD Internet2 Health Sciences mmcgill@internet2.edu or mcgill@columbus.rr.com 614-844-4200 (Office) 614-975-2030 (Cell)
Hosted by the Office of the Governor of the State of Ohio
Sponsored by the World Bank, Internet2, and the Ohio Supercomputer Center