COLUMBUS, Ohio (

Aug 21, 2012

) —
OSC, business clients explain roles with EDA's NDEMC program
Columbus, Ohio (Aug. 21, 2012) – Ohio Supercomputer Center (OSC) officials recently described for a top federal economic development official how the center is using advanced modeling and simulation to boost the prospects for small- and medium-sized supply-chain businesses.
Matt Erskine, Acting Assistant Secretary of Commerce for Economic Development, visited OSC in Columbus, Ohio, Aug. 21 to learn more about OSC's role in the National Digital Engineering and Manufacturing Consortium (NDEMC) program. NDEMC is a five-year public-private partnership funded by the Economic Development Administration (EDA).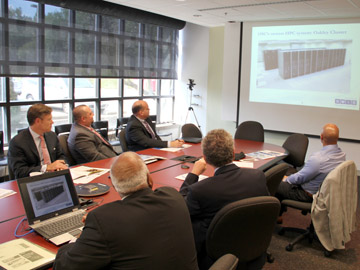 "The Columbus region has been working to provide the advanced tools that businesses need to give them a cutting edge in the marketplace," said Erskine in a Commerce Department blog immediately following his visit. "A very important and impressive tool is the Ohio Supercomputer Center, a statewide resource that provides supercomputing services and computational science expertise to both researchers and industry."
NDEMC's initial effort is the Midwest Project for SME-OEM Use of Modeling and Simulation. The project is the first large-scale public-private partnership of the United States Government, original equipment manufacturers (OEMs), state and university computing centers, the State of Ohio, and other non-governmental organizations to provide education, training, and access to computing resources for the small- and medium-sized enterprises (SMEs) manufacturing workforce to develop modeling and simulation skills.
"OSC has a long history of involvement in public-private industrial outreach projects with federal agencies, such as EDA and the Departments of Defense and Energy," said Alan Chalker, Ph.D., director of Client Engineering for OSC. "We're very pleased to have top-level officials, such as Secretary Erskine, engaging with us at the local level for the NDEMC program."
The NDEMC project aims to improve competitiveness and innovation capacity in the American manufacturing supply chain by helping to develop a workforce with enhanced technical skills, improved product quality, better customization of products, and job retention and growth.
The Council on Competitiveness is leading the project with partners: The Procter & Gamble Company, Lockheed Martin, General Electric Energy, John Deere Company, OSC, The National Center for Supercomputing Applications, The National Center for Manufacturing Sciences, and Purdue University. OSC is actively supporting 13 of 20 board-approved projects, working with SMEs Plastipak, Greenlight Optics, Jeco Plastics, Replex Plastics, Applied Sciences, Morrison Products, AltaSim Technologies, KLW Plastics, Midwest Precision, Technology Management Inc. and Engendren.
OSC has been at the forefront of the effort by high performance computing centers to help industry gain easy and affordable access to advanced computing technologies. With support from the Ohio Board of Regents, OSC launched its innovative industrial outreach initiative, Blue Collar Computing, in 2004. Under this program, OSC provides companies with advanced computational technologies that allow for the virtual development of new and improved products, such as cars, pharmaceuticals and financial products.
The Ohio Supercomputer Center (OSC), a member of the Ohio Technology Consortium of the Ohio Board of Regents, addresses the rising computational demands of academic and industrial research communities by providing a robust shared infrastructure and proven expertise in advanced modeling, simulation and analysis. OSC empowers scientists with the vital resources essential to make extraordinary discoveries and innovations, partners with businesses and industry to leverage computational science as a competitive force in the global knowledge economy, and leads efforts to equip the workforce with the key technology skills required to secure 21st century jobs. For more, visit www.osc.edu.