BOSTON (

Apr 20, 1996

) —
Don Stredney, Ohio Supercomputer Center, and Dr. John McDonald, The Ohio State University Medical Center, have won the prestigious Cray Leadership Award for Breakthrough Computational Science for combining virtual reality technology with surgical techniques, which has revolutionized the field of medical training. Their work will be honored on Monday, June 3, at the annual Computerworld Smithsonian Awards ceremony in Washington, D.C. at the National Building Museum. The Breakthrough Computational Science Award is made possible by Cray Research, Inc., Eagan, MN., and is aimed at recognizing unique and important uses of supercomputers. The judging committee for the Award includes high-level representatives of government, university, and commercial organizations from the U.S. and abroad.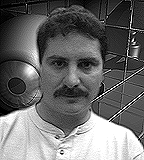 The team of McDonald and Stredney successfully demonstrated a virtual reality application aimed at helping medical students more effectively learn how to administer epidural analgesia, one of the most frequently used techniques for the relief of pain during surgery, particularly during childbirth. This medical procedure is delicate and dangerous as the administer must maneuver around the human spinal cord. To date, there is no method of training except on live patients.
McDonald's vast knowledge of medicine and Stredney's expertise in biomedical supercomputing have led to the development of this virtual medicine application, making it possible to teach certain high-risk medical techniques to students without ever having a patient on the operating table.
Stredney, 38, a senior research scientist, concentrates on biomedical applications at the Ohio Supercomputer Center. He has a strong background in medical illustration and computer visualization. Throughout his career, Stredney has created ways of using computers to visualize objects that previously could be experienced only in real life.
McDonald, 58, is currently chairman of the Department of Anesthesiology and a professor in the Department of Obstetrics and Gynecology at The Ohio State University Medical Center. His medical background includes several leadership positions in the fields of anesthesiology, obstetrics and gynecology throughout the United States. In a career that spans over 20 years, he has given lectures around the world. McDonald is a member of 22 societies and sits on three editorial boards. He received an MD from the State University of Iowa's College of Medicine and a BA from State University of Iowa, where he was a Nile Kinnick scholar. McDonald authored 45 papers, as well as numerous book chapters and abstracts.
"Computational science -- using computers to gain new insights through simulation -- has become a third branch of the scientific method in many fields, alongside traditional theory and experimentation," said Cray Research President and Chief Operating Officer Robert J/ Ewald. "Dr. McDonald's and Don Stredney's achievement significantly advances the boundaries of computational science."
The Cray Research Information Technology Leadership Award for Breakthrough Computational Science is given annually to an individual or a team that has best used supercomputers to: remarkably increase the possibilities for improvement in the human condition; set new, achievable standards for endeavor; and create new tools that effect change. The individuals who receive this award are judged on: vision, foresight and the courage of conviction; determination to solve a significant, previously insoluble, problem; the intelligence and the will to overcome seemingly insurmountable obstacles to achieve their goals.
"The 1996 Cray Leadership Award for Breakthrough Computational Science winners are true pioneers who are developing technologies that will shape the future of our society in the Information Age," said Dr. David K. Allison, chairman of the Division of Information technology and Society at the Smithsonian's National Museum of American History. "Their involvement in this program will help the Smithsonian build a national historical record of technology innovation as well as honor their achievements."
The Cray Information Technology Leadership Award for Breakthrough Computational Science is one of five Information Technology Leadership Awards presented annually at the Computerworld Smithsonian Awards. Established in 1989, the Computerworld Smithsonian Awards program was created to identify and honor individuals who use information technology across a spectrum of industries to make our planet a more humane, healthy and cooperative place to live. The program annually attracts hundreds of nominations from around the world which are included in the Smithsonian's permanent research collection.
Past winners of the Cray award are: Dr. Andrew McCammon of the University of San Diego for his computational work providing insight on certain enzymes and their affect on such diseases as Alzheimer's; and Dr. Charles Peskin and Dr. David McQueen of New York University's Courant Institute, for their three-dimensional model of the human heart, it's valves, and surrounding arteries.