COLUMBUS, Ohio (

May 31, 2004

) —
OARnet plays a leading role in the extension of Internet technology services to rural Ohio through the Connecting Rural Ohio Wireless Neighborhood Project. OARnet, ITEC-Ohio, and OSU engineers worked in conjunction with community leaders in Southern Perry County in Southeastern Ohio to install a satellite dish, LAN and WAN antennae that provide Internet connectivity throughout New Straitsville, Ohio, from a satellite 23,000 miles out in space.
With major funding from the American Distance Education Consortium (ADEC), grants from the Voinovich Foundation and the Ohio Community Computing Network, and community support from several local non-profit agencies, the Connecting Rural Ohio partnership was formed to address the educational, technological, and economic needs of communities in this distressed region of the state.
The Internet connectivity is providing educational services to adult learners and job training opportunities to low income residents that helps improve their quality of life, increase their standard of living, and provide a valuable resource to police, fire, libraries, and other community services.
The project began in 2002 when former ITEC-Ohio Director Pankaj Shah began looking for ways to provide Internet connectivity to rural areas of the state that were historically underserved by telecommunications companies. This connectivity would help provide non-traditional educational services and workforce development training such as Internet-based distance learning programs and adult education classes, as well as new small business and entrepreneurial opportunities, to these underserved populations of Ohio.
During the following year Shah convened a team of engineers and technicians to search for options and funding for the project. At the same time ITEC-Ohio and Ohio State were developing the Transportable Satellite Internet System (TSIS), which played an initial role in the project. The team consisted of Shah, Dr. Bob Dixon, OARnet's Megan Troyer, and Alan Escovitz and Gabe Moulton from the OSU CIO office.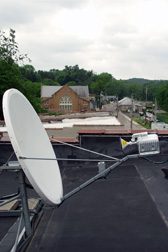 The OARnet/ITEC/OSU team, along with the Southern Perry Incubation Center for Entrepreneurs (SPICE) and the Sunday Creek Associates (SCA), developed a pilot program in New Straitsville that brought new technology services to the region. By offering new opportunities through distance education and career development, local area residents are earning course credits and certificates, learning new trades in education and technology skills, and are once again finding hope and achievement in their lives.
In the spring of 2003 a group of Southern Perry County residents began classes in conjunction with the Wireless Neighborhood project. The project ended a successful first year of operations on May 31, 2004, and students received certificates as Outpatient Billing and Coding specialists from Hocking Technical College.
The certificate program consisted of seven on-line courses that students were able to take over the satellite Internet service. The satellite Internet service sponsored by the American Distance Education Consortium provides a LAN in the Southern Perry Business Center located in New Straitsville, and is operated by the Corning-based SPICE. Students received tuition scholarships from the Appalachian Technology and Workforce Initiative for their on-line course work.
After graduation the students and SPICE collectively established the Southern Perry Medical Records Service, which provides services in medical records coding and billing for doctors and other Emergency Medical Services providers. The Medical Records Service received a grant from the Perry County Job and Family Services in 2004 to help with marketing their services to area physicians and EMS providers.
Additional free computer training, from novice to intermediate levels, is available at the Southern Perry Business Center and includes Windows XP operating systems with Microsoft Word, Excel, and Access. The Typing Quick and Easy tutorial is also available free of charge. Training is taught in small classes or individually to Southern Perry Country residents.
For more information on the Wireless Neighborhood Project go to www.oar.net/cro