Introduction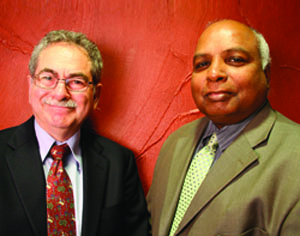 Steve Gordon and Ashok Krishnamurthy, interim co-executive directors of OSC
To compete in a global environment, OSC depends upon powerful technology, vital services and – most importantly – talented people. We have developed a strategic vision to achieve and sustain national prominence as an academic and industrial supercomputer center that is focused on meeting and exceeding researcher needs and expectations. Our staff has the expertise, experience and flexibility to work closely with researchers to best achieve their goals using our computational
resources.

Our mission is simple: empower researchers to make extraordinary discoveries and innovations; partner with industries to leverage computational science as a competitive force; and lead efforts to train Ohio's workforce on key skills to help them secure 21st century jobs.

In this report, you will find a small sampling of the research successes achieved through ready access to OSC resources – from identifying a drug that will allow the body to block brain tumors and designing solar cells with organic materials to extending the battery life of electric cars and developing algorithms to predict the likelihood of armed conflict.
Through the award-winning Blue Collar Computing program, we show industry members how to use custom web portals to design improved products and take them to market faster; and with the Ralph Regula School of Computational Science programs, we facilitate college students' pursuit of a groundbreaking minor and an associate degree curricula.

We invite you to read, enjoy and be inspired by the work of researchers and industry partners who are redefining the realms of science and even the deployment of advanced technologies like supercomputers.

Sincerely,
Steve & Ashok