Director of Research Software Applications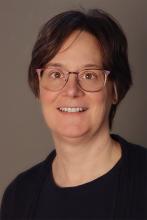 Karen Tomko, Ph.D., serves as director of Research and manager of the Scientific Applications group at the Ohio Supercomputer Center. Tomko also serves as an XSEDE Campus Champion for The Ohio State University. Her research interests include communication runtimes, application parallelization and tuning, and programming models for many-core coprocessors and accelerators.
Prior to joining OSC, Tomko spent 11 years as a faculty member in computer science and engineering at University of Cincinnati and Wright State University. She has been working in collaboration with computational scientists for more than 20 years, including projects with Ford Motor Co. and the Air Force Research Laboratory. Her experience with scientific applications ranges from crash simulation to fluid dynamics to quantum many body physics. Tomko is interested in computational science education and has participated in regional and national efforts to develop curricula for degree and certificate programs.
Tomko earned a doctorate and a master's degree in Computer Science and Engineering, as well as a bachelor's degree in Computer Engineering, all from the University of Michigan.
Organization:
Ohio Supercomputer Center
Address:
1224 Kinnear Road, Columbus, OH 43212