Client and Technology Support Engineer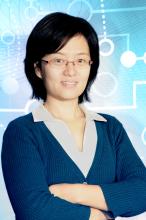 Yuan Zhang serves as a client and technology support engineer for the Ohio Supercomputer Center (OSC), providing the Center's clients with technical support in the areas of bioinformatics and computational biology.
Zhang assists users with code conversions for high performance computing, evaluates bioinformatics and computational biology application codes, and researches and analyzes algorithms for high performance computing platforms. Zhang also teaches training courses, including "Introduction to Bioinformatics Tools at OSC," and supports and advises researchers on the use of scientific software.
Previously, Zhang served as a research associate in the department of pathology at The Ohio State University and in the computational biology program at Carnegie Mellon University. She also worked as a research assistant at the National Laboratory of Protein Engineering & Plant Genetic Engineering at Peking University, Beijing, China, and at Iowa State University, Ames, Iowa, while completing her studies in molecular, cellular and developmental biology.
Zhang earned a bachelor's degree in cell biology and genetics from Peking University in 1997 and a master's degree in molecular, cellular and developmental biology from Iowa State University in 2000. She also earned a master's degree in computer science from State University of New York in 2002.
Areas of Expertise
Bioinformatics
Computational biology
Organization:
Ohio Supercomputer Center
Department:
Education and User Support
Address:
Ohio Supercomputer Center (OSC), 1224 Kinnear Road, Columbus, OH 43212