Date:
Thursday, October 6, 2016 -
Location:
1224 Kinnear Rd. Columbus, OH 43212
Download to your calendar.
Sept. 9: flash talk and poster session deadline.
We are pleased to invite you and your group to attend the Statewide Users Group meeting on October 6, 2016 at the Ohio Supercomputer Center in Columbus. More information and registration is below.
Meeting Description
The purposes of the SUG meeting are to highlight new scientific developments produced using OSC resources, foster connections between OSC staff and the SUG members, and obtain constructive feedback as to the future of OSC and its role in supporting science across Ohio.
During the morning meeting (starting at 10:00 a.m.), there will be a Q&A with OSC Help, Software meeting, and Hardware meeting, to enable interactions between the current/potential OSC clients and OSC staff. In the afternoon, we will host two half-hour keynotes on areas of interest to OSC clients. 
Free lunch and afternoon appetizers will be provided. After the SUG meeting, we will reconvene in one of the active social neighborhoods of Columbus for drinks, dinner and networking.
To register, please complete the registration form below. If you have any questions feel free to contact OSC Help.
Directions and Hotel Information
Flash Talk & Poster Competition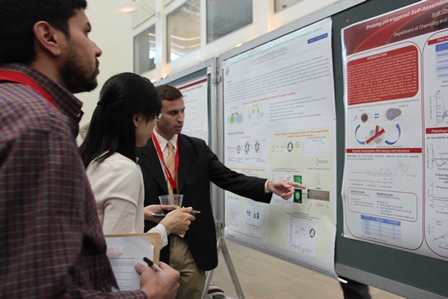 We will have a 'flash talk' session and a poster session to highlight the research and emerging ideas from OSC clients. Talks and posters will be selected from abstracts submitted via the registration form. We will contact you on September 14th to nofity you of your flash talk or poster acceptance. At that time, a link will be provided for you to upload your flash talk file or poster file for printing; you can also upload now. Flash talk files are required by September 24th. 
Presented flash talks and posters will be awarded 1,000 RUs on OSC systems
The flash talks and posters will be judged. The first-place talk and poster each will receive a grant of 5,000 RUs and be highlighted in OSC's annual Research Report. The second-place talk and poster each will receive a grant of 2,500 RUs
All posters will be displayed to the public in the hallways of OSC
The posters should be 32" tall and 45" wide.
We encourage posters by students just starting their work, to show creative ideas on how high performance computing will enhance their research. 

OSC offers to print out posters. An online form to upload your poster file will be given to you when your poster has been accepted; you can also upload now. The file submissions for printing are required by September 24th.
 
Important Dates:
​We will have a WebEx stream of the meeting if you cannot attend:
Meeting number: 646 482 000
Meeting password: [none]
Join by phone:
Can't join the meeting? Contact support.