COLUMBUS, Ohio (

Nov 10, 2021

) —
Xia Ning has a large portfolio of research projects at The Ohio State University that focus on understanding how artificial intelligence can be used to solve issues in health care. 
Discovering new drugs to treat disease is one of Ning's goals. Traditional research methods, which call for lengthy trials with animal models, have disadvantages. 
"To find a single drug is costly and time consuming," said Ning, an associate professor who holds joint appointments in Ohio State's College of Medicine and College of Engineering.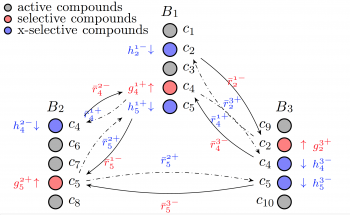 Ning is drawing on her expertise in computer science and biomedical informatics to create a new path to drug discovery. Her lab examines millions of small molecules and uses that information to create novel models that could be strong candidates for drugs. 
"In order to learn from millions and millions of chemical structures, we need a lot of computational power," Ning said. 
The Ohio Supercomputer Center (OSC) is integral to the project. Each model requires the use of one graphical processing unit (GPU) and 96 GB of RAM for the data generated, Ning noted. 
Compared to the conventional central processing units (CPUs) researchers may use in their labs, GPUs offer a significant boost in computing power. OSC features GPUs across its systems to allow clients to efficiently process large amounts of data, and consistently upgrades its hardware to ensure access to the most cutting-edge technologies. 
Those computing resources have helped Ning reach important milestones in her drug discovery work. Research findings from the project have been accepted for publication in the prestigious journal Nature Machine Intelligence and also have attracted new grant funding to the lab. 
Ning has been a heavy user of high performance computing centers since her days as a faculty member at Indiana University. She joined Ohio State in 2018. 
"The first thing I did here was look for similar resources," Ning recalled. "I didn't think about having my own cluster—that would have taken me a lot of effort."
In addition to OSC's capabilities and technical support, Ning appreciates its availability to her lab members. OSC offers Open OnDemand, an interface funded by the National Science Foundation that allows users to remotely access the Center resources online from any device.
"(OSC) provides a very nice Open OnDemand tool that we can access through the web," Ning said. "I believe all of my students are using it. It's very easy for us to use, and we don't need to worry about maintenance or software installation."
Ning also employs OSC for teaching Python programming in her biomedical course. The Center creates a class project through which her students can quickly access computational resources and see results immediately through the OSC web portal, she said. 
Over the next year, Ning will continue to work with OSC on the drug discovery project, as well as on research on predicting peptides that could be used for vaccine development. 
"As long as we're doing research," Ning said, "we'll rely on OSC."
---
About OSC: The Ohio Supercomputer Center (OSC) addresses the rising computational demands of academic and industrial research communities by providing a robust shared infrastructure and proven expertise in advanced modeling, simulation and analysis. OSC empowers scientists with the services essential to making extraordinary discoveries and innovations, partners with businesses and industry to leverage computational science as a competitive force in the global knowledge economy and leads efforts to equip the workforce with the key technology skills required for 21st century jobs.