COLUMBUS, Ohio (

Jul 12, 2023

) —
This year 20 high school students attended the Ohio Supercomputer Center's (OSC) Summer Institute (SI), where they worked in teams to complete STEM projects, attended tours of research facilities and museums around The Ohio State University's Columbus campus and participated in social activities such as basketball and board games.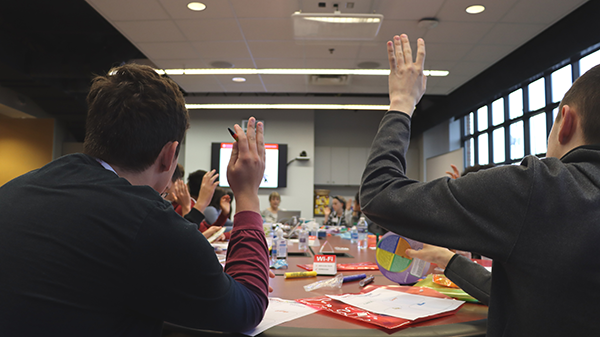 Alan Chalker, director of strategic programs at OSC, said the two-week camp exposes students to fields of science that they may not have encountered before, such as supercomputing, automotive research and biodiversity. Students can connect their new knowledge of topics such as machine learning with current technology applications such as ChatGPT, as well as learn about potential college majors and career opportunities, Chalker said.
"I think it (SI) will help me a lot," one student said in the program's exit survey. "I now have a better idea of working in the cybersecurity field and the many opportunities at Ohio State and OSC. It has helped me also to get to know some more people interested in computer science and education in general."
The program provides students with a glimpse into college life by giving them the opportunity to stay in one of Ohio State's residence halls on campus, eat at the dining halls and use recreational facilities.
The camp also provides a setting for students to meet peers who have similar interests and passion for learning about STEM. The students who were all once nervous to talk to each other on the first day were inseparable by the end. At the closing ceremony, students could be seen in groups talking, laughing and introducing their new friends to their parents before demonstrating what they had learned over the past two weeks through project presentations.
Projects
On the second day of camp, the students selected one of the following projects to work on:
Web App Development: In this project, students built a web application that rendered computer-generated videos on the Center's clusters. The students learned about the programming language Ruby, the Linux Operating System and web technologies such as HTML, JavaScript and CSS.
Machine Learning Movie Night: Students learned how to build a basic machine learning model that generated various text encodings that predicted a positive or negative sentiment regarding a movie review and classified it accordingly.
Penetration Testing: This project provided students with a chance to conduct an authorized cyberattack on a computer system and understand how to thwart malicious hackers. They learned how to identify vulnerabilities and weaknesses, assess the effectiveness of security controls and prevent unauthorized access.
Comet Hunting: During this project students used MATLAB to analyze data from the Solar and Heliosphere Observatory (SOHO) Spacecraft and Large Angle Spectrometric Coronagraph (LASCO) Instrument to identify potential comets.
The projects taught students the ways in which high performance computing can simplify the process of analyzing data and support different types of research. In addition, they helped students gain teamwork and presentation skills.
Kyle Earley, an HPC security engineer at OSC, co-led the penetration testing project with Antonio Marcum, information security compliance lead at the Ohio Technology Consortium (OH-TECH). They ensured that all students understood the technical topics covered each day.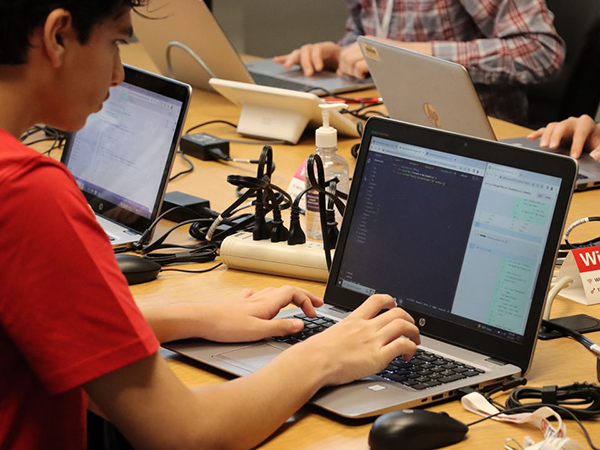 By understanding what steps a hacker would take to break into a system, Earley said the students learned the techniques they would need to prevent an attack.
"All the students came in with zero hacking or penetration testing skills or knowledge," Earley said. "But now they are leaving with a really great base knowledge that applies outside of security as well."
Jeffrey Ohrstrom, web and interface application engineer at OSC, led the web application project for a second year in a row. He said the project provided students with experience using HTML and developing software that they might not be exposed to in a computer science class.
"They got a little bit of exposure to real deal software development, which is cool because when you go into school, you learn computer science, which is not exactly computer programming," Ohrstrom   said.
Based on the anonymous daily surveys, students enjoyed gaining an understanding of different coding languages such as Python, Linux, MATLAB and Ruby throughout the projects, and also appreciated the interactions with group leaders.
"For the penetration testing project the group leaders were amazing; they helped me out when I got stuck and helped us improve our final project," one student wrote in the camp's exit survey.
Tours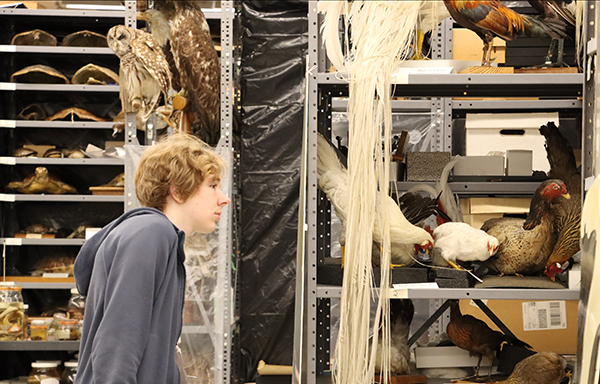 The students attended five tours during the camp where they learned about the relationship between different fields of science and their use of supercomputing resources.
At a chemistry demonstration students were taught about the practical uses of liquid nitrogen and methane in science. In addition, they went on an impromptu tour of Thompson Library where they had a view of Ohio State's campus from the 11th floor.
During the tour of the Museum of Biological Diversity, which features a variety of preserved animals, students learned about the use of supercomputers to run analyses of different species all at the same time. In comparison, running an analysis one-by-one on a laptop would not be feasible because of the time it would take.
At the Center for Automotive Research (CAR) students saw the different automotive projects developed by Ohio State undergraduate and graduate students that they could one day work on themselves.
At the State of Ohio Computer Center (SOCC), students toured OSC's data center where the high performance computing systems, such as Ascend, are located. Chalker explained the various components of the systems and how they operate.
In Byrd Polar and Climate Research Center, students learned about the process of collecting ice cores and rocks for research purposes and the data that can be collected and analyzed from each sample. Students visited the rock garden, where rocks not suitable for research are discarded, and could take home a rock of their own from Antarctica.
Evening Activities
After each day of working hard on their projects, the students returned to a residence hall on Ohio State's main campus and could decide how to spend their evenings.
Jesse Ory, desktop support technician at OH-TECH and a chaperone for the camp, said the activities varied each evening. One popular activity was visiting the Recreational and Physical Activity Center (RPAC) to play games such as basketball and volleyball. Some also preferred staying in for board games.
"Every year each group has their own personality," Ory said. "I would say this group is definitely very outgoing and sociable, so it's been easy to organize activities for everyone to participate in."
Since the students are working on their projects most of the day and "exercising their brain," Ory said it was important to have that time later in the day to relax.
"Summer Institute is an investment in our youth," Ory said. "They are our future and it's important that we provide spaces for them, both academic and socially, where we can spend time with them, and they can spend time together."
Students who are interested in applying for next year's Summer Institute can find more information on the OSC website. Ohio residents currently in the ninth, 10th or 11th grades of high school are eligible to apply for the camp. Applications typically open in January and close in April. Accepted students are notified in May.

By Mary Kidwell
About OSC: The Ohio Supercomputer Center (OSC) addresses the rising computational demands of academic and industrial research communities by providing a robust shared infrastructure and proven expertise in advanced modeling, simulation and analysis. OSC empowers scientists with the services essential to making extraordinary discoveries and innovations, partners with businesses and industry to leverage computational science as a competitive force in the global knowledge economy and leads efforts to equip the workforce with the key technology skills required for 21st century jobs.