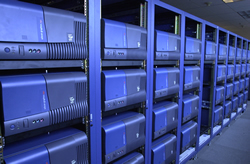 COLUMBUS, Ohio and MOUNTAIN VIEW, Calif. - OSC (Ohio Supercomputer Center) and SGI (NYSE: SGI) announce the launch of a new cluster from SGI utilizing the Itanium-based Silicon Graphics® 750 system, making this cluster one of the fastest in the world.
This 146-processor system will allow Ohio researchers to study everything from quark-antiquark attraction and radiation transfer in astrophysical outflows to simulations of photosynthesis components and matter in the early universe.
"This cluster is an example of higher education working with the information technology industry to place one of the most powerful supercomputers in Ohio," said Al Stutz, OSC high performance computing director. "The new system will provide a six-to-tenfold performance increase for Ohio's academic researchers."
The Silicon Graphics 750 system with 292GB memory, 428GFLOPS peak performance for double-precision computations and 856GFLOPS peak performance for single-precision computations, follows the Pentium® III Xeon cluster that was operative at OSC for the past 18 months. The old system will be divided into smaller clusters and cascaded to faculty as part of the Cluster Ohio Project grants awarded last month.
Doug Johnson, OSC systems developer said, "This Itanium cluster system, running the Linux operating system, will provide our users access to an exciting new architecture, giving them premium supercomputing technology for a wide variety of applications."
This system is the first Itanium processor-based cluster installed by SGI.

"SGI has collaborated with OSC for the past several years on cluster computing projects," said Jan Silverman, SGI senior vice president of marketing. "SGI is thrilled with the potential scientific advancements that OSC will be able to make with one of the world's largest Itanium clusters. SGI is dedicated to enabling new innovations for our technical customers, and OSC's strides in understanding fundamental areas ranging from subatomic particles to the big bang are a perfect example."
The Silicon Graphics® 750 systems with the Itanium processor are linked with the Myrinet-2000 interconnect for MPI traffic, which is developed and produced by Myricom, the leading high-speed network for connecting computers to form clusters. Myrinet clusters are used worldwide for computationally demanding scientific and engineering applications and for data-intensive Web and database applications.
About SGI
SGI, formerly known as Silicon Graphics, Inc., is a technology solutions provider with a broad range of high performance computing, advanced graphics and consulting services that enable its technical and creative customers to maintain a competitive advantage in their core businesses. Whether being used to design and build safer cars and airplanes, discover new medications and oil reserves, improve weather predictions, or enhance entertainment with thrilling special effects, SGI systems and expertise are empowering a world of innovation and discovery. The company, located on the Web at www.sgi.com, is headquartered in Mountain View, Calif., and has offices worldwide.
About Myricom
Myricom supplies Myrinet products and software to companies such as IBM, Hewlett Packard, Compaq, Sun Microsystems, NEC, SGI, Cray and numerous other OEM and system-integration companies. There are thousands of Myrinet clusters in use worldwide, including several systems with more than 1,000 processors.
About OSC
OSC is Ohio's flagship center for high-performance computing, networking, educational outreach and information technology. OSC empowers its academic, industrial and government partners to make Ohio the education and technology State of the future.
Silicon Graphics is a registered trademark and SGI and the SGI logo are trademarks of Silicon Graphics, Inc. Pentium is a registered trademark and Xeon and Itanium are trademarks of Intel Corporation. Myrinet and Myrinet-2000 are trademarks of Myricom, Inc. All other trademarks mentioned herein are the property of their respective owners.