The Ohio Supercomputer Center (OSC) is a project partner in the National Science Foundation-funded Artificial Intelligence (AI) Institute for Intelligent Cyberinfrastructure with Computational Learning in the Environment (ICICLE) and will host an All Hands Meeting Nov. 2-3.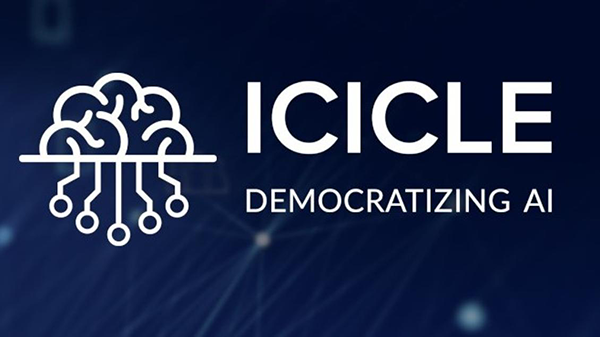 ICICLE, which is led by The Ohio State University, aims to make AI easier to use for everyone. It will build and prove its next-generation AI system around three application domains: smart foodsheds, digital agriculture and animal ecology.
The All Hands Meeting will bring together ICICLE members from the 14 project partners to create a defined plan for the next year, said Dhabaleswar K. ("DK") Panda, Ph.D., PI of ICICLE and a professor in computer science at Ohio State.
"We are hoping that after this meeting everybody will be very clear about how their work fits into this bigger picture, and we have a very concrete roadmap for at least the next year," Panda said.
The project was launched last year and will receive a total of $20 million over five years. During this period, the ICICLE team will expand its audience from those in academia to the community through education and outreach efforts.
Neelima Savardekar, DHA, managing director of ICICLE, said the project is also working to provide the next generation of students, educators and practitioners with all the information they need to know about AI literacy and how to work with the technology.
"We will have some deliverables, like software and applications, that will be available for the community to use," Savardekar said. "Democratizing AI and making it available for everyone is our vision."
Karen Tomko, director of research software applications at OSC, and Shameema Oottikkal, data analytics engineer at OSC, will participate in the meeting on behalf of the Center.
"It's such an impressive group of faculty, staff and students that have come together in this institute," Tomko said. "I'm sure we're going to have some great discussions as we plan our activities for the next year."
Other ICICLE project partners include:
Case Western Reserve University
IC-FOODS
Indiana University
Iowa State University
Rensselaer Polytechnic Institute
San Diego Supercomputer Center
Texas Advanced Computing Center
University of California, Davis
University of California, San Diego
University of Delaware
University of Utah
University of Wisconsin
By Mary Kidwell
About OSC: The Ohio Supercomputer Center (OSC) addresses the rising computational demands of academic and industrial research communities by providing a robust shared infrastructure and proven expertise in advanced modeling, simulation and analysis. OSC empowers scientists with the services essential to making extraordinary discoveries and innovations, partners with businesses and industry to leverage computational science as a competitive force in the global knowledge economy and leads efforts to equip the workforce with the key technology skills required for 21st century jobs.