SALT LAKE CITY (

Nov 14, 2012

) —
Group honors OSC for role with national digital manufacturing initiative
(Salt Lake City, Utah; November 14, 2012) – The Ohio Supercomputer Center (OSC) has been recognized in the annual HPCwire Readers' and Editors' Choice Awards, presented today (Nov. 14) at the 2012 International Conference for High Performance Computing, Networking, Storage and Analysis (SC12), in Salt Lake City, Utah.
The list of winners was announced live from the HPCwire booth at the event, and a complete listing is available on the HPCwire website, located at www.HPCwire.com.
OSC was selected to receive the Editor's Choice award for Best HPC Collaboration between Government and Industry, for OSC's contribution to the National Digital Engineering and Manufacturing Consortium (NDMEC) to support and enhance the use of modeling and simulation among America's small and medium manufacturers.
"This recognition of Ohio's contributions to NDEMC and industrial outreach affirms the work we have been spearheading for nearly a decade," said Ashok Krishnamurthy, Ph.D., senior director of research at OSC. "The kinds of technology resources available through programs like these are increasingly attractive to businesses who are looking to relocate and to those who want to stay here."
OSC was similarly recognized with the HPCwire 2006 Readers' Choice Award for "Best Collaboration between Government and Industry" for its groundbreaking Blue Collar Computing program. OSC launched the Blue Collar Computing program in 2004 to provide small and medium-sized business – which lack high performance computing (HPC) resources, training, and expertise – with the tools they need to enhance the companies' competitiveness in the global marketplace.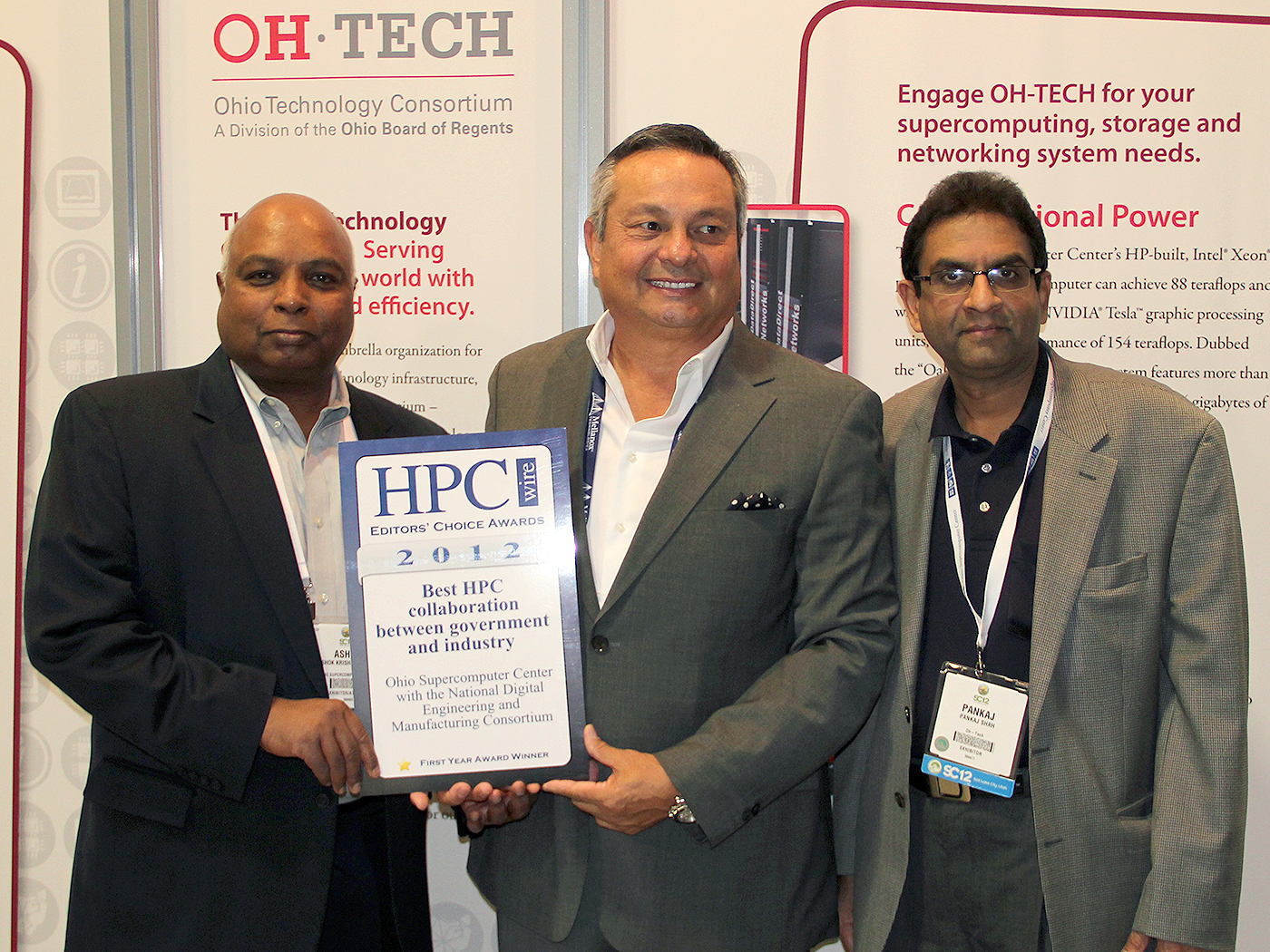 OSC Senior Director of Research Ashok Krishnamurthy (left) and OSC Executive Director Pankaj Shah accept the Editor's Choice Award at SC12 from HPCwire Publisher Tom Tabor.
"NDEMC, public/private partnerships, and a future state resembling agricultural extension service models utilizing academic institutions can jump start this whole cycle for small and medium enterprises (SMEs)," said Tom Lange, director of modeling and simulation corporate R&D at the Procter & Gamble Company. P&G serves as one of NDEMC's private partners and is a recognized a leader in modeling and simulation among manufacturers. "To grow that ecosystem, it is vital that small and medium-sized businesses have access to the powerful computational and storage resources that OSC provides. That computing power fuels the more precise and accurate models necessary to mimic the actual results of physical tests commonly used to innovate. OSC also provides guiding expertise for emerging new users − who are often just learning how to replace their expensive physical prototypes with ever-more-realistic, faster and more affordable simulations."
Last fall, OSC and several of Ohio's other statewide technology organizations were brought under the umbrella of the Ohio Technology Consortium, or OH-TECH, where Blue Collar Computing was transitioned into Technology Innovation Services program.
"The consortium now reaches across the expertise of the several fields of technology, including such vital areas as modeling & simulation, high-speed networking, innovative e-learning programs and extensive online library resources," said Pankaj Shah, executive director of OSC. "I'm proud to say that Ohio's suite of technology offerings leads the nation in many respects."
Funded in 2011 by the U.S. Economic Development Administration, NDEMC is a public/private partnership that seeks to provide midwestern small- and medium-sized manufacturers with access to advanced modeling and simulation resources. OSC is actively supporting 13 of 20 board-approved projects, nine of which involve small- and medium-sized manufacturing enterprises that have some sort of physical presence in Ohio. NDEMC's 12 other partner organizations, including resource providers at the National Center for Supercomputing Applications and Purdue University, received similar awards from HPCwire.
The highly-coveted HPCwire Readers' and Editors' Choice Awards are determined through online polling of the global HPCwire audience for the Readers' Choice Awards, combined with a rigorous selection process for the Editor's Choice Awards, where winners have been selected by a panel of editorial and executive staff, recognized HPC luminaries, and contributing editors from across the industry. The awards are revealed during the Monday opening reception at the Supercomputing Conference each year, which showcases high performance computing, networking, storage, and data analysis. The awards hold the unique distinction of being recognized as the most prestigious recognition given by the HPC community to its own each year.
"It's an honor and a privilege to take time during the most important supercomputing conference globally to acknowledge the organizations and the individuals behind them who exemplify the hard work, dedication, and effort that has taken place the past year to develop new technologies that ultimately benefit mankind," said Jeff Hyman, president and group publisher of Tabor Communications Inc. "The awards represent the highest level of recognition to the leaders and luminaries in the high performance computing industry by our HPCwire readers and the community alike. Our warmest congratulations go out to all the recipients of this year's awards."
More information on the awards can be found at the HPCwire website www.hpcwire.com
_________________
The Ohio Supercomputer Center (OSC), a member of the Ohio Technology Consortium of the Ohio Board of Regents, addresses the rising computational demands of academic and industrial research communities by providing a robust shared infrastructure and proven expertise in advanced modeling, simulation and analysis. OSC empowers scientists with the vital resources essential to make extraordinary discoveries and innovations, partners with businesses and industry to leverage computational science as a competitive force in the global knowledge economy, and leads efforts to equip the workforce with the key technology skills required to secure 21st century jobs. For more, visit www.osc.edu.
HPCwire is the #1 news and information portal covering the fastest computers in the world and the people who run them. With a legacy dating back to 1986, HPCwire continues to be the publication of choice globally by business and technology professionals from academia, government, science, and industry who are interested in high performance and computationally intensive computing. For topics ranging from the latest developments in systems, software, tools and applications, to middleware, networking and storage technologies, HPCwire delivers it all and remains the HPC communities' most reliable and trusted resource. For additional information, visit: www.hpcwire.com