The Ohio Supercomputer Center's Virtual Environments and Simulation Group involve an interdisciplinary team of research scientists, computer scientists and clinicians.
The team, which includes colleagues who have been working together for more than two decades, applies high performance computing and advanced interface technology to virtually explore complex computational data.
As advanced simulations integrate progressively larger computational data sets from multiple sources, staff members of the Ohio Supercomputer Center create intuitive methodologies to integrate these vast caches of multisensory data into a single coherent simulation that can facilitate a researchers explorations and interactions.
While these types of virtual environments were once seen only as a unique extension of gaming technology, today virtual environments and simulations are considered essential tools for competitiveness, from healthcare to education to manufacturing.
"The diversity of these projects shows that virtualization and simulations are becoming more commonplace," said Don Stredney, director of the Interface Lab and senior research scientist, biomedical applications. "Not only have we been able to promote the use of interactive 3-D visualizations, we've developed ways to show that developments can often be extended to another, related area."
The following examples illustrate the wide array of funded modeling and simulation projects OSC supports:
Geoscience students with mobility impairments can explore the geological structures of Mammoth Cave through an interactive virtual interface created by experts at OSC. (See story, page 11.)
The National Institute for Occupational Safety and Health is in the process of funding a project to create virtual training environments for home health care providers. With more providers going into the field, it's critical that they be able to identify household risks such as the presence of mold, dangerous use of equipment, or other threats to the health of either patients, their family, or the health care providers themselves. The effort is to reduce the need to use expensive theatrical models that are costly to maintain and that provide new methods to establish national standards for use in training.
OSC's Virtual Temporal Bone Project (right), developed in partnership with Nationwide Children's Hospital – Columbus and OSU's Department of Otolaryngology, allows future surgeons to practice delicate drilling techniques on a computerbased teaching system. More than 10 remote institutions throughout the country are using the device, which now includes improved realism and automated assessments of the students' performance.
The Ohio State University Driving Simulation Laboratory (top) supports the design and implementation of vehicle instrument panels and in-vehicle information systems that can be safely used by drivers. A unique university and industrial partnership, the lab was established through collaborations with Honda R&D Americas, oversight from Ohio State's Office of Research and technical expertise from OSC.
Geosciences: a Mammoth Project
A virtual, former slave-turned-cave guide is partnering with visualization experts at OSC, a geoscience researcher at Georgia State University (GSU) and others to develop an interactive, simulated field trip through parts of Kentucky's famous Mammoth Cave.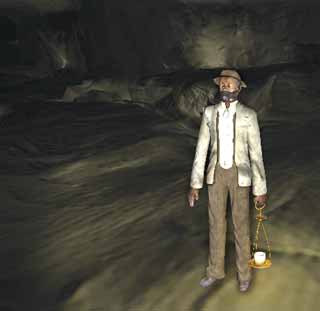 "We have developed a prototypical visual environment of a geological field study," explained Christopher Atchison, Ph.D., a former graduate research assistant at OSC and now an assistant professor of geoscience education at GSU. "This project seeks to develop and test the efficacy of a simulated representation of cave and karst formations for use in geoscience education, with the intent of increasing interest and to support participation by students with mobility impairments."
To help students find their way through the cave, Ohio State University graduate student Nikki Lemon created a virtual guide. The avatar was modeled on Materson "Mat" Bransford, a slave who led tours of the cave through the early-to-mid 1800s.
"The early guides provided the foundation of what we know about Mammoth Cave," said Atchison. "Other than the Native Americans from hundreds of years earlier, the slave guides were the earliest explorers, who began constructing the first maps of the cave based on their personal experiences." Officials at Mammoth Cave National Park have expressed an interest in having the group design and install a version of the application at their visitor's center.
"We have sought to integrate additional media to enrich the educational goals and impart a historical perspective to the project," said Don Stredney, director of the OSC's Interface Laboratory. "We've created the avatar with historical accuracy and provide visitors with an engaging and unique educational experience through virtual technologies."
In addition to structural data, the team gathered high-precision data through laser remote-sensing technology, called LIDAR (Light Detection And Ranging), and high-resolution digital photography. All the data was then integrated into a virtual environment.
The two-year National Science Foundation project is titled "Expanding Geoscience Diversity Through Simulated Field Environments for Students with Physical Disabilities." The project is a collaboration of OSC (Stredney, Thomas Kerwin, Ph.D., Brad Hittle), GSU (Atchison), the Mammoth Cave International Center for Science and Learning (Rick Toomey, Ph.D.), Ohio State's Advanced Computing Center for the Arts and Design (Lemon, Alan Price), Ohio State's School of Teaching and Learning in the College of Education (Karen Irving, Ph.D.), the National Cave and Karst Research Institute, the Cave Research Foundation, Ohio's STEM Ability Alliance and the International Association for Geoscience Diversity.
To read more about the project, visit osc.edu/research/Biomed/projects/OEDG.