Scientists know that plants emit chemicals into the soil to communicate information to other plants. These chemical messages, sent through fungal networks, may warn plants to defend against threats in their environment or to stop encroaching on another plant's space. 
Scientists such as Jonathan Morris and Kathryn Morris of Xavier University are seeking to learn more about how the fungal networks function as communication channels. In addition to conducting experiments with plants at the Oak Ridge National Laboratory, the married researchers are using the Ohio Supercomputer Center (OSC) to develop simulations of how the chemicals move through the soil. 
The research findings will be of interest to other scientists studying plant ecology and will be applicable to agricultural management. 
"This research offers us a better understanding of how herbicides move around when applied to agricultural crops and a better understanding of chemical interaction in ecology," said Kathyrn Morris, an associate professor of biology. 
 
The project also has provided critical hands-on experience in computer modeling to several Xavier University undergraduate students involved in the research, said Jonathan Morris, an associate professor of physics. 
Although computer modeling is a skill that physics, mathematics or computer science majors expect to learn and use, biology students may not initially see the connection to their discipline or think they will excel in it, Jonathan Morris noted. But the biology majors in the plant communication project quickly learned how to work with MATLAB code and computer modeling through their work with OSC, he said. One student confirmed that the experience was opening the doors to new internship opportunities.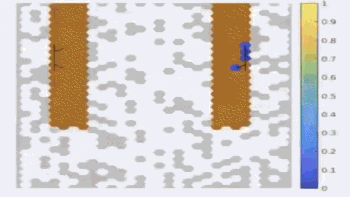 Using OSC for the research project also allowed the professors and students to access computer servers and work on code together in real time and remotely during the pandemic, Jonathan Morris said. 
"It's a well-packaged resource that allows easy collaboration that is beyond the scope of what a small undergraduate research university like Xavier could dream of having," he said.
As the plant communication research continues at OSC, Xavier University plans to expand its use of the Center's resources in the classroom, Jonathan Morris said. The faculty member already uses OSC in his introductory computing course, in which students use MATLAB software and the OnDemand web portal to complete assignments. As part of a new data science major at Xavier, undergraduates also will use OSC resources in courses in machine learning and high performance computing. 
---
Jonathan Morris faculty webpage