HPC Client Services Manager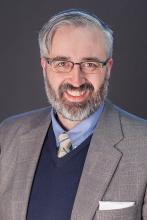 Brian Guilfoos serves as the HPC Client Services manager for the Ohio Supercomputer Center (OSC).
Guilfoos leads the HPC Client Services Group, which provides training and user support to facilitate the use of computational science by the center's user communities. Guilfoos also works directly with OSC clients to help convert computer codes, develop batch scripting, compiling and code development so that these researchers can efficiently use the center's supercomputers and licensed software.
Guilfoos developed and delivered training in MATLAB as a part of the U.S. Department of Defense High Performance Computing Modernization Program support.
Prior to joining OSC, he was contracted by the Air Force Research Laboratory to focus on software development in support of unmanned aerial vehicle (UAV) interface research. He was a key technical member of a team that was awarded the 2004 Scientific and Technological Achievement Award by the AFRL Human Effectiveness Directorate.
Guilfoos earned a master's degree in public policy and administration in 2014 and a bachelor's degree in electrical engineering in 2000, both from The Ohio State University.
Area of Expertise
Batch scripting and compiling
Code development
Computational science
Software development
Organization:
Ohio Supercomputer Center
Department:
Education and User Support
Address:
1224 Kinnear Road, Columbus, OH 43212