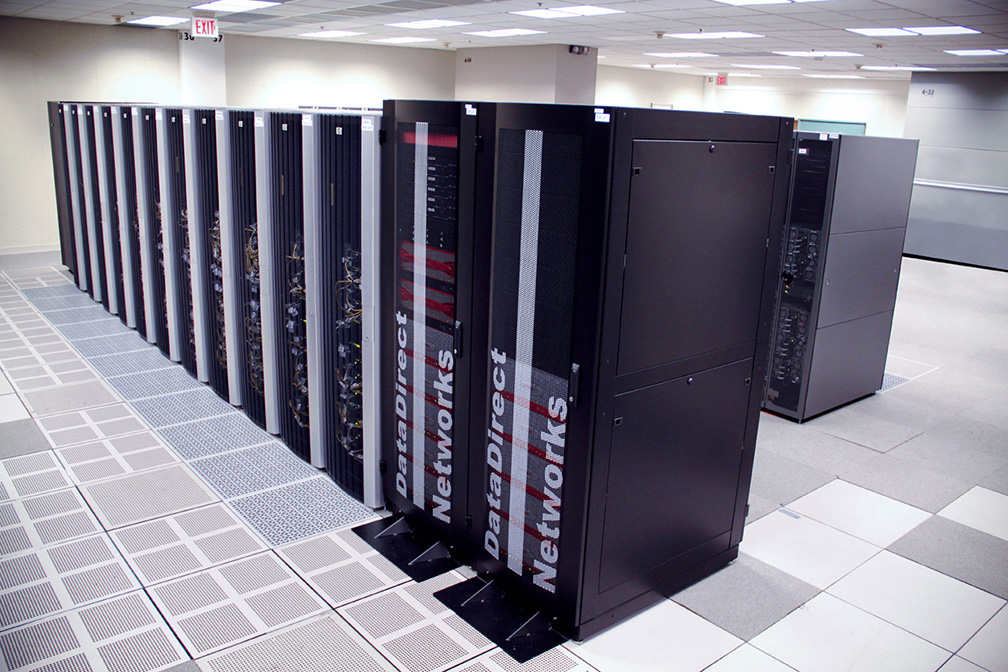 Oakley HP Intel Xeon Cluster (8,328 Cores)
As a leader in high performance computing and networking, the Ohio Supercomputer Center (OSC) is a vital resource for Ohio's scientists and engineers. OSC is a fully-scalable center with mid-range machines to match those found at National Science Foundation centers and other national labs. The Center's flagship supercomputing system is the Oakley Cluster, an 8,300+ core HP Intel Xeon machine.
OSC also is home to the Ohio Interface Laboratory, which provides state-of-the-art graphics equipment and output services for computer graphics and animation. Members of the HPC Client Services group provide much of the information for this server.

Getting Started
Welcome to OSC! If you are new to supercomputing, new to OSC, or simply interested in getting an account (if you don't already have one), we have some resources to help you.

HPC Environments
We currently operate three major systems:
Owens Cluster, a 23,000+ core Dell Intel Xeon machine available to clients later in 2016
Ruby Cluster, a 4800 core HP Intel Xeon machine

20 nodes have Intel Xeon Phi accelerators
20 nodes have Nvidia Tesla K40 GPUs
One node has 1 TB of RAM and 32 cores, for large SMP style jobs

Oakley Cluster, an 8,300+ core HP Intel Xeon machine

One in every 10 nodes has 2 Nvidia Tesla GPU accelerators
One node has 1 TB of RAM and 32 cores, for large SMP style jobs
Our clusters share a common environment, and we have several guides available.
OSC also provides more than 5 PB of storage, and another 5.5 PB of tape backup.
Learn how that space is made available to users, and how to best utilize the resources, in our storage environment guide.
System Notices are available online.
Finally, you can keep up to date with any known issues on our systems (and the available workarounds). An archive of resolved issues can be found here.

Available Software
OSC has a variety of software applications to support all aspects of scientific research. You can view the complete software list, which is being updated continually.
OSC also offers licenses for some software packages to Ohio researchers via our statewide software program.
Some packages are access-controlled due to license restrictions. You can find the forms necessary to request access.
Portals
We provide a number of web portals for our user community.
MyOSC allows users to monitor their account summary information as well as to change their passwords.
OSC OnDemand is a "one-stop-shop" for accessing OSC compute resources. You can submit and monitor jobs, manage files, open terminal sessions and even get a desktop. Full documentation is available.

Tutorials & Training
Training is an important part of our services. We are working to expand our portfolio; we currently provide the following:
Training classes. OSC provides training classes, at our facility, on-site and remotely.
HOWTOs. Step-by-step guides to accomplish certain tasks on our systems.
Tutorials. Online content designed for self-paced learning.

Support Services
OSC Help consists of technical support and consulting services for OSC's high performance computing resources. Members of OSC's HPC Client Services group staff OSC Help.
Before contacting OSC Help, please check to see if your question is answered in either the FAQ or the Knowledge Base. Many of the questions asked by both new and experienced OSC users are answered in these web pages.
If you still cannot solve your problem, please do not hesitate to contact OSC Help:
Toll Free: (800) 686-6472
Local: (614) 292-1800
Email: oschelp@osc.edu
Hours: Staff on-site 24x7x365
Submit your issue online
OSC users also have the ability to directly impact OSC operational decisions by participating in the Statewide Users Group. Activities include managing the allocation process, advising on software licensing and hardware acquisition.
We recommend following HPCNotices on Twitter to get up-to-the-minute information on system outages and important operations-related updates.