COLUMBUS, Ohio (

Jul 3, 2013

) —
Fifteen middle school girls from around the state will be attending the Ohio Supercomputer Center's 14th annual Young Women's Summer Institute at The Ohio State University on July 7-13, 2013.
These academically gifted young women will investigate environmental watershed issues within the state, while exploring career opportunities in science, technology, engineering and mathematics (STEM) fields.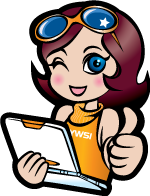 The Ohio Supercomputer Center (OSC) began this annual weeklong residential program in 2000 to encourage young women to develop an interest in STEM fields, which are primarily male dominated. Young Women's Summer Institute (YWSI) teaches young female students that an interest in math and science can transform into a lifelong career. Women who work in various STEM industries will visit the students throughout the week to discuss their rewarding professions.
"With the packed academic schedules for students during the school year, it is difficult to allow a creative outlet for them to use their science and mathematics knowledge," said Liz Stong, director of YWSI. "Fortunately, YWSI is that creative outlet and, in turn, participants feel more intelligent and more confident in STEM classes."
YWSI students will experience hands-on learning by analyzing water quality in Ohio watersheds using the scientific method. The students will visit Darby Creek, a State Scenic River near Columbus, to gather and test water samples. Later, they will compare the results in their group watershed projects, based on Ohio Environment Protection Agency data.
The students also will tour Ohio State's research facilities and experience college life by staying in the university's residence halls. During the closing ceremonies, the YWSI students present their findings to an audience of OSU faculty, parents, teachers and OSC staff.
Research shows that cultivating STEM interest at an early age enables leadership abilities within students and provides them with a competitive edge in their future educational and professional pursuits. Through annual surveys and longitudinal studies conducted during the past years of YWSI, participants said the program had a positive influence on their interest in science and mathematics studies. Since participating in the program, 75 percent of the students said they gained more confidence in STEM classes.
Jean Wheasler, YWSI 2000 participant explains the positive impact Young Women's Summer Institute had on her career choices "At that age, I wasn't sure what I wanted to do...and I think participating in a science project like [our YWSI project] really made me lean towards science as something that's cool...and that I really enjoy doing."
OSC provides additional education programs for STEM enrichment through its Summer Institute, which allows high school men and women to engage in university-level research while working with some of the nation's best supercomputers.  OSC also provides numerous internships for Columbus Metro High School and college students.
EDITORS: The following identifies the students selected for YWSI. The list is arranged by last name and identifies the middle school each attends along with her hometown.
Samiya Alam, Ann Simpson Davis Middle School, Dublin
Cara Cannarozzi, Kettering Middle School, Kettering
Neha Dudipala, Grizzell Middle School, Dublin
Hanley Jefferis, Rootstown Middle School, Rootstown
Snigdha Kalluri, Grizzell Middle School, Dublin
Alice Lo, Genoa Middle School, Westerville
Kaiden Murphy, Willis Intermediate School, Delaware
Cate O'Malley, Kettering Middle School, Kettering
Gabrielle Pathrose, Mason Middle School, Mason
Sarita Pattisam, Davis Middle School, Dublin
Genevieve Paulick, Kettering Middle School, Kettering
Ellie Plaster, North Canton Middle School, North Canton
Mackenzie Rush, Faircrest Memorial Middle School, Canton
Rachelle Soh, Fairfield Intermediate School, Hamilton
Annie Wang, Dr. Henry Karrer Middle School, Dublin
The Ohio Supercomputer Center (OSC), a member of the Ohio Technology Consortium of the Ohio Board of Regents, addresses the rising computational demands of academic and industrial research communities by providing a robust shared infrastructure and proven expertise in advanced modeling, simulation and analysis. OSC empowers scientists with the vital resources essential to make extraordinary discoveries and innovations, partners with businesses and industry to leverage computational science as a competitive force in the global knowledge economy, and leads efforts to equip the workforce with the key technology skills required to secure 21st century jobs. For more, visit www.osc.edu.