COLUMBUS, Ohio (

Jul 11, 2016

) —
Eighteen Ohio middle school girls are spending a week of their summer break investigating complex science problems while discovering career opportunities in the science, technology, engineering and mathematics (STEM) fields.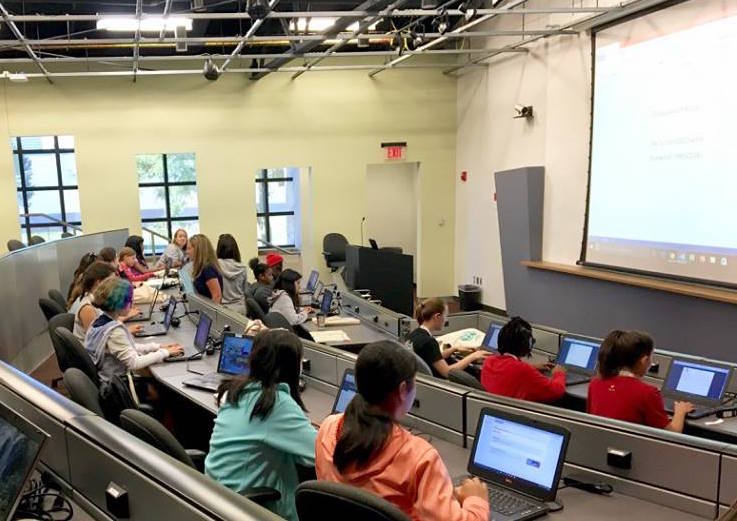 The students are attending the Ohio Supercomputer Center's annual Young Women's Summer Institute (YWSI) from July 10-16 on the campus of The Ohio State University. Ohio Supercomputer Center (OSC) staff members established YWSI to provide middle school girls with real-world experience in STEM fields. Students get hands-on experience working on scientific problems while developing their science, math and engineering skills.
"With the packed academic schedules for students during the school year, it is difficult to allow a creative outlet for them to use their science and mathematics knowledge," said Liz Stong, YWSI Director and Program Assistant at OSC. "Fortunately, [YWSI] is that creative outlet and, in turn, participants feel more intelligent and more confident in STEM classes."
YWSI students are taking field trips focused on science and engineering, as well as completing group projects that include studying the effects of humans on wildlife, learning about the hydrologic cycle and measuring water quality. The students will gain firsthand experience by visiting various watersheds in central Ohio, as well as touring the Byrd Polar and Climate Research Center. The students also are getting a behind-the-scenes view of Ohio State's campus and a taste of campus life by living in dorms throughout the week-long camp.
Birce Onal, a YWSI Residential Adviser and Career Panelist, has seen the benefits of YWSI for its students. "YWSI/SI and programs like this target three key areas to bring more women into STEM, creating a community, making science fun and exposing young women to fields they were unaware of," said Onal, a graduate research associate at Ohio State's College of Engineering. "These programs target young women at an age in which learning heavily depends on a positive social community. The camps allow smart young women to meet each other, work in groups and talk openly with each other about science and their lives.
OSC provides additional education programs for STEM enrichment through the Summer Institute, designed for high school-aged students to engage in scientific research while working with some of the nation's best computer technologies. OSC also provides numerous internships for Columbus Metro High School and college students.
###
EDITORS: The following list identifies the students participating in YWSI 2016. The list is arranged alphabetically by last name and identifies each student's hometown.
For photographs, see facebook.com/oscywsi
Caroline Steele, Avon Lake (Learwood Middle School)
Helen Wang, New Albany (New Albany Middle School)
Sugru Yahaya, Columbus (Hilliard Tharp Sixth Grade School)
Seyoung Ree, Bowling Green (Bowling Green Middle School)
Mina Abbey, Powell (Ann Simpson Davis Middle School)
Chloe Hayes, Chesapeake (Chesapeake Middle School)
Defne Ceyhan, Columbus (Hastings Middle School)
Caroline Denny, Alliance (Marlington Middle School)
Leyla Khamsoucksaly, Shadyside (Leona Middle School)
Ellen Vasilkov, Columbus (Our Lady of Peace School)
Gabrielle Mathis, West Chester (Union Elementary)
Kathryn Walcutt, Galena (Berkshire Middle School)
Rena Zhao, Columbus (Hastings Middle School)
Terra Sloane, Bowling Green (Bowling Green Middle School)
Mary Hiros, Middleburg Heights (Middleburg Heights Junior high)
Arya Dudipala, Dublin (Willard Grizzell Middle School)
Sara Newsome, Hillsboro (Hillsboro Middle School)
Isabella Lengal, Powell (Liberty Middle School)
The Ohio Supercomputer Center (OSC), a member of the Ohio Technology Consortium of the Ohio Department of Higher Education, addresses the expanding computational demands of academic and industrial research communities by providing a robust shared infrastructure and proven expertise in advanced modeling, simulation and analysis. OSC empowers researchers with the vital services essential to make extraordinary discoveries and innovations, partners with businesses and industry to leverage computational science as a competitive force in the global knowledge economy, and leads efforts to equip the workforce with the key technology skills required to secure 21st century jobs. For more, visit www.osc.edu(link sends e-mail).