COVID-19 Update (4/15/2020): 
As a result of OSU canceling all on-campus events through the summer (including closing dorms), OSC has made the difficult decision to cancel both the Summer Institute (SI) and the Young Women's Summer Institute (YWSI).
In making this decision, we evaluated a series of options, including converting the programs to a virtual or non-residential experience or rescheduling it for later in the summer.  We understand the disappointment that potential participants will feel as a result of this decision.  As part of this extraordinary situation, we intend to retain all applications submitted by April 17 for inclusion in the candidate pool next year.  Any student who is currently a Junior that submits an application for SI this year will be eligible for participation next summer even though Seniors traditionally aren't eligible for the program. The same procedure will be in effect for girls who are currently 7th graders that submit an application for this year's YWSI.
---
About Young Women's Summer Institute:
What is the Ohio Supercomputer Center Young Women's Summer Institute
YWSI is a week-long program sponsored by Ohio Supercomputer Center for middle-school girls in Ohio. It is designed to promote computer, math, science and engineering skills as well as provide hands-on experiences. YWSI helps girls develop an interest in these subjects by allowing them to work on a practical, interesting scientific problem using the latest computer technology.
Who is eligible to apply?
Current Ohio-resident 6th and 7th graders (you must be a 6th or 7th grader in the 2019-2020 school year) and K-12 science and math teachers.
Who might want to apply?
Motivated young women who are interested in science, engineering, mathematics or computers.
Why students might want to attend?
YWSI is designed to encourage girls' interest in math, science and engineering and improve their participation in  science, engineering and technology fields, and in particular, information technology. YWSI introduces girls to exciting careers and job opportunities.
Program Details:
Dates: 2020 Program canceled.  2021 dates TBD.
Location: Ohio Supercomputer Center, 1224 Kinnear Road, Columbus, Ohio
Application: Applications will be accepted online beginning January 1, 2020. The deadline for YWSI 2020 applications is April 17, 2020. We will begin notifying accepted students early May 2020. Click here to apply. 
Cost: Those chosen for the program will be awarded partial scholarships. The partial scholarships lower the price to $264 for each attendee. The fee covers housing, meals and program tuition, including laboratory visits, insurance, chaperones, social activities, equipment costs and much more.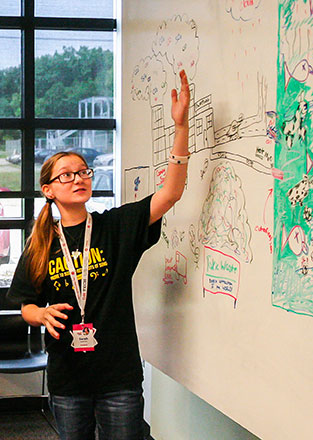 Example Projects: Students examine first-hand the human impacts on biological systems, how humans affect water chemistry (thus impacting biological systems), and the importance of habitat to the systems' survival. Students measure the number of organisms, analyze water chemistry using standard test kits, and evaluate habitats in and around a clean river. They then compare their data to publicly available data, such as research data from the U.S. EPA.
Each project requires the "scientists" (students) to understand the problem, analyze the data, and visualize the results. Individual projects introduce fundamental computer skills and provide the students with an understanding of a variety of computer applications. During the program, they become familiar with spreadsheet and presentation software and build their own web pages using the HTML language.
General Schedule: Please click on the link at the upper right to see a detailed schedule.
Sunday: Students arrive; Ice breaker; Evening activity - Games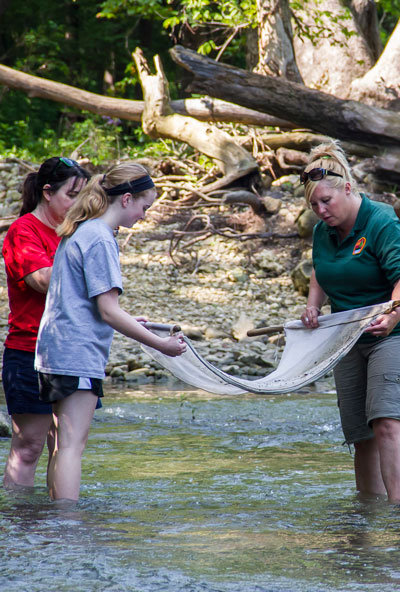 Monday: Opening remarks & keynote speech; Intro to rivers and effects of humans on wildlife; Evening activity - Swimming
Tuesday: Field Trip: Big Darby; Water quality measurements; Electro Fishing; Campus Tour
Wednesday: Select group projects; PowerPoint & Presentation skills; Introduction to Modeling; Evening activity - Career night
Thursday: Work on group projects; Look at data in Excel;  Evening activity - Webpage creation
Friday: Work on group projects; Impromptu speeches; Presentation dry run; Evening activity - Scrapbooking
Saturday: Announcements and Final Survey; Welcome and Overview of the Week; Presentations
Information for this year's participants:
What to bring | Tentative schedule of events | Projects
For more information, contact:
(614) 292-9248 or si-contact@osc.edu
2020 Sponsors: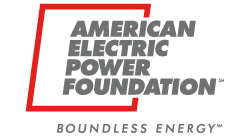 Program Impact:
Assessment Survey Results:
In 2004, the YWSI program engaged external consultants to conduct a survey of the 116 alumni participants and their parents.  They received a ~75% response rate and were able to report the following: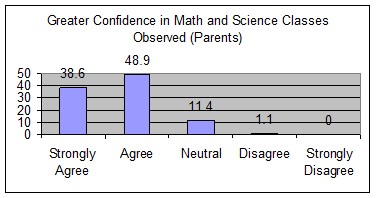 The students are more likely than their parents (48.2% vs. 38.4%) to say that they have already participated in extra-curricular math and science activities; however, they are also more likely than their parents (12.9% vs. 2.3%) to say that they probably will never participate in these types of extra-curricular activities.
The parents are more likely than their daughters to see increased confidence in math and science classes (87.5% vs. 74.7% as shown in bar chart at right), school presentations (78.4% vs. 70.1%) and problem-solving abilities (84.1% vs. 65.2%) as a result of the students' involvement with YWSI.
Both the students (90.8%) and their parents (87.5%) are extremely likely to note a greater confidence among the girls in the use of technology for class work as a result of the students' involvement with YWSI.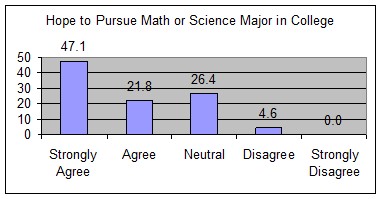 The students report being more likely to pursue AP credit (91.9%) than either a college major (68.9%, as shown in bar chart at right) or career (66.7%) in science or math.  By comparison, the parents as a whole are more likely to encourage a college major (78.2%) and career (77.4%) in science or math than the students taken together are to pursue them while the students are more likely to pursue AP credit in science or math than the parents are to encourage it (87.3%).
The students were most divided over the question of whether or not young women can pursue science-based occupations as easily as young men.  While over 72% of the participants who responded think this is possible, more than 16% think it is more difficult for young women than it is for young men to follow this career path.
Activities Mapped to Targeted Outcomes
As shown in the table below, each key program activity has been mapped to a targeted outcome for the participants.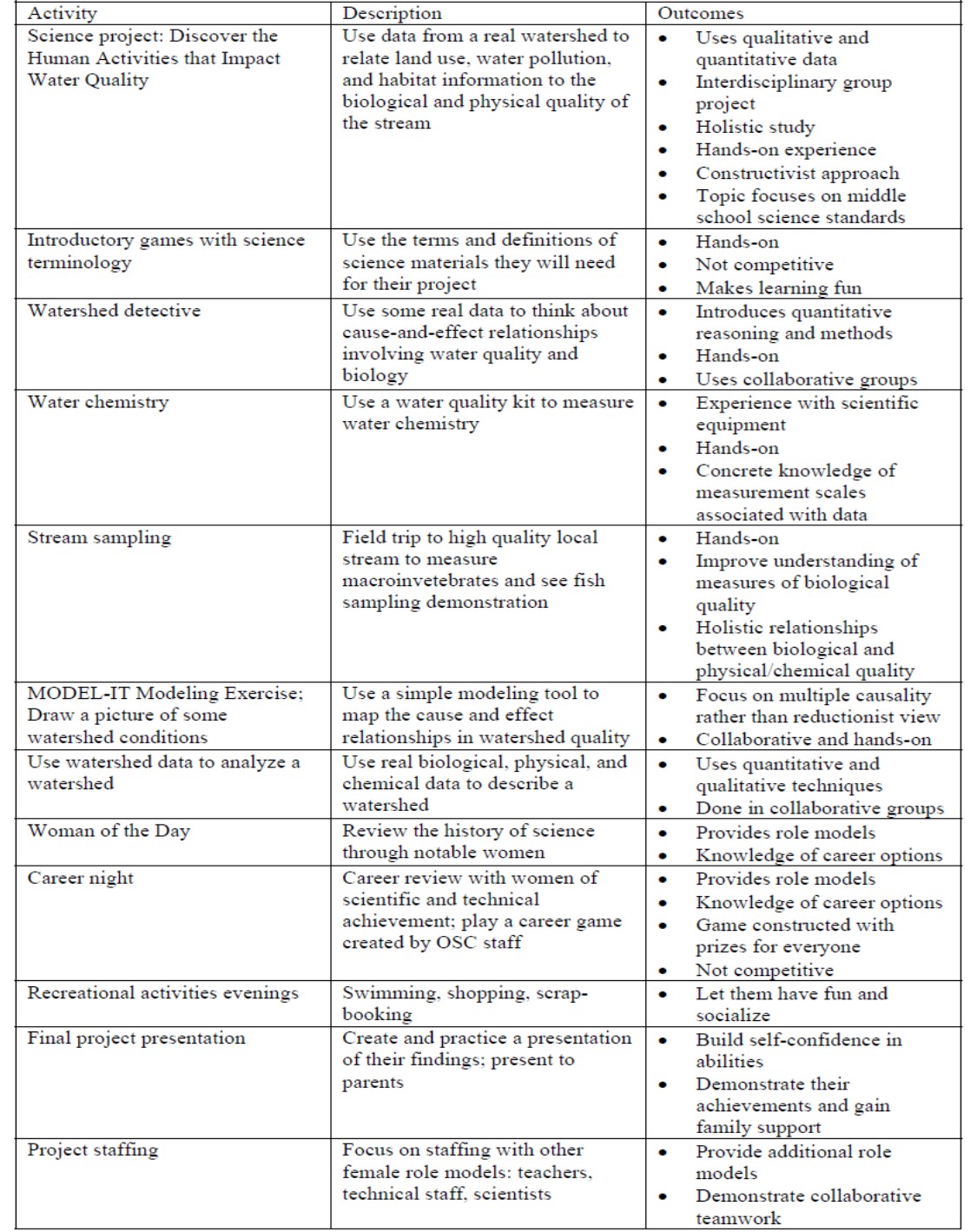 Testimonials and Videos: