COLUMBUS , Ohio (

Aug 3, 2022

) —
Fifteen high school students participated in the Ohio Supercomputer Center's (OSC) two-week Summer Institute (SI), which was held in person for the first time since 2019.
SI provides students with experiences in a variety of science disciplines that may spark a passion in them, altering their educational and career path, said Alan Chalker, director of strategic programs at OSC. The Center has offered SI annually since 1989, except in 2020 and 2021 due to the pandemic.
2023 OSC Summer Programs
Applications are open for Summer Institute and Young Women's Summer Institute 2023. Apply by April 16, 2023
Students gain valuable academic and social experiences at SI. They learn new information about the real-world application of computer science and programming while developing their teamwork skills in group projects. Throughout the camp students stay in a residence hall on The Ohio State University campus, which offers a glimpse into college life.
The students visited several research and technology facilities, including Byrd Polar and Climate Research Center, the State of Ohio Computer Center, the Center for Cognitive and Behavioral Brain Imaging MRI machine and the Center for Automotive Research. The tours allowed them to meet various professionals who work in STEM fields, as well as college students majoring in these disciplines.
Projects
On the first day of SI, project leads – three OSC staff members and an Ohio State faculty member – presented topics for students to choose to work on during the two-week camp.
The first project, which dealt with the psychology of choice, required the group to complete eye tracking studies and analyze the data to examine how they each chose between different types of art and snacks.
The second project dealt with astronomy and used Solar & Heliospheric Observatory mission data from NASA satellites that are constantly streaming images of the corona of the sun. Students analyzed these images to track points of light and identify potential comets.
The final project worked with OnDemand, an OSC software application that provides web-based access to high performance computing resources. Students learned how OnDemand is similar to an app store and created some example apps that dealt with rendering graphics and small animated movies.
The OnDemand project group spent the first couple days learning the foundations of the programming language Ruby, said Jeffrey Ohrstrom, OnDemand project lead and web and interface app engineer for OSC. Ohrstrom set up his project in stages for the students, which allowed them to build upon their knowledge and skills throughout the camp.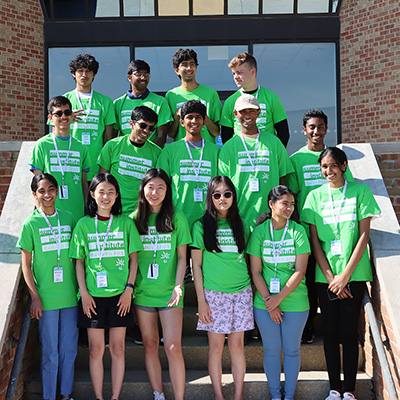 "That's a really cool feeling to have all of that hard-work turn into something that didn't exist before," Ohrstrom said about the students' experience with the project.
The comet project group spent their first couple of days transferring their new training in the Python computer programming language to MATLAB, another widely used language, said Brian Guilfoos, comet project co-leader, co-director of SI and HPC client services manager at OSC.
Guilfoos said after a week of camp the students began working well as a group, bouncing ideas off each other and communicating a lot more than they were earlier.
"They got real exposure to working in a team environment on a complicated problem," Guilfoos said.
At the end of camp when the students presented their work on the comet project, Guilfoos and fellow project leader Antonio Marcum were pleased to see the students' excitement about their accomplishments.
"I think it's just really rewarding to see them get to that point where they can talk confidently about what they've done, the challenges they had and the lessons they learned," Guilfoos said.
Outcomes
During the first couple days of camp students were quiet, but by days three and four they had broken out of their shells, said Riley Schwanz, a chaperone of the camp and graduate student in the Human Factors and Industrial-Organizational Ph.D. Program at Wright State University.
Schwanz said it was great to see the students become more talkative and build relationships as the camp progressed. Students learned a lot about what it would be like to go to college – especially at a large state school like Ohio State – how different departments at a university interact, and how to live like a college student a bit, Schwanz said.
"I think one of the most rewarding things was right on the last day when they were all sharing phone numbers and creating group chats and stuff," Schwanz said. "They were talking about how they wanted to get together and see each other in the summer."
As one participant's mother watched her daughter laugh, talk and engage with her peers at the camp's closing ceremony, she told Chalker she had never seen her shy and introverted daughter interact at that level before in her life.
"These kids clearly find peers they don't normally encounter because they're from different school districts and they're not facing the same type of social pressures," Chalker said.
Over the course of the two weeks students were exposed to different scientific fields, met role models and used computers in a variety of disciplines.
"The kids came into this knowing nothing about those three fields, nothing about those projects," Chalker said. "Two weeks later, they gave 15- to 20-minute presentations to their parents about all the details of these projects showing code, explaining the justification and causation. These are real things that we and our clients do every day that they are duplicating and seeing. These aren't toy problems. They were operating with real data, real images, real webpages and real supercomputers."
As part of the Ohio Department of Higher Education, one of OSC's aims is to engage Ohio students as they prepare for higher education and careers. Chalker said SI raises awareness of Ohio as a "wonderful place that does incredible things on the global stage."
"Eventually each of those students is going to do something amazing," Chalker said. "It might be here in Ohio, or they might represent Ohio elsewhere, but they're always going to have this experience and they're always going to talk about that."
Prospective campers
Students who are interested in applying for next year's Summer Institute can find more information on the OSC website. Ohio residents currently in the ninth, 10th or 11th grades of high school are eligible to apply for the camp. Applications typically open in January and close in April. Accepted students are notified in May.
Prospective SI students should know that they do not have to be an experienced programmer or have any particular skills when they start, Guilfoos said. They just need a keen mind and interest in the material being covered.
"We will teach you the skills that you need to succeed," Guilfoos said. "There may be some other students in your group who are going to be more experienced programmers, but you will have valuable ideas to contribute and you will learn about programming and so much more, together."
About OSC: The Ohio Supercomputer Center (OSC) addresses the rising computational demands of academic and industrial research communities by providing a robust shared infrastructure and proven expertise in advanced modeling, simulation and analysis. OSC empowers scientists with the services essential to making extraordinary discoveries and innovations, partners with businesses and industry to leverage computational science as a competitive force in the global knowledge economy and leads efforts to equip the workforce with the key technology skills required for 21st century jobs.