COLUMBUS, Ohio (

Jun 26, 2018

) —
The Ohio Supercomputer Center is in the process of procuring a new high performance computing system this summer, and in line with its tradition of naming its systems after pioneers with an Ohio connection, the center looked to its earliest days.
Russell M. Pitzer, the honoree and now emeritus professor of chemistry at The Ohio State University, was among a few individuals who began discussing the possibility of bringing high performance computing to Ohio higher education, even before the center was established in 1987.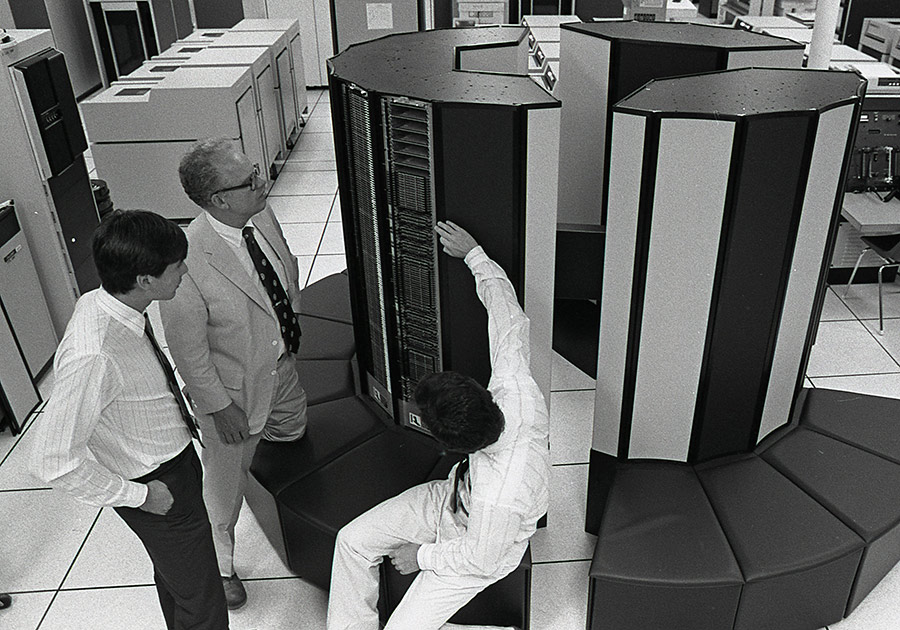 "Dr. Pitzer played a key role in the vision for and creation of the center," remarked David Hudak, interim executive director of OSC. "And, he has shown a rare level of commitment in maintaining his involvement with the center, both as a staff member and advisor, for more than 30 years. Russ is certainly deserving of having this new system named after him for his dedication to high performance computing across Ohio."
The Pitzer Cluster, currently being built by Dell Inc., is scheduled for delivery in August and is designed to deliver more than 1.3 petaflops of performance. Pitzer will join other Ohio pioneers currently or formerly represented in the OSC data center, such as Jesse Owens, Ruby Dee, Annie Oakley, Chuck Csuri and John Glenn.
"It is an honor to have my name proposed for the Ohio Supercomputer Center's new supercomputer," Pitzer said.
Pitzer explained his role in helping to create OSC in a 2009 autobiography that appeared in the Journal of Physical Chemistry A: "In 1985, after the NSF announced their program for funding national supercomputer centers, Bill McCurdy and I, as two of the very few supercomputer-experienced faculty in the state, were included in a group putting a proposal together. We set about making plans for all aspects of the Ohio Supercomputer Center, including a state computer network for access (Ohio Academic Resources Network, or OARnet)."
Pitzer, McCurdy and others behind the effort "believed that the nation at large was moving to a different kind of technology, a technology not available at Ohio State or at other colleges and universities in the state of Ohio," recounts McCurdy in his 1988 Ohio Supercomputer Center Status Report. McCurdy, now at the University of California Davis, served as OSC acting director from 1986 to 1987. Pitzer was the acting associate director for the same period, including being in charge of the staff that developed and maintained OARnet.
Pitzer's involvement with OSC didn't stop there; he served as interim director of the center from 2001 to 2003. From its inception to the present, Pitzer also has been an active member of the center's Statewide Users Group, which meets regularly with OSC staff to discuss hardware, software, allocations and general information about the center.
Today, OSC provides statewide high performance computing, storage, software and training services that assist researchers across a vast array of disciplines in both academic and commercial sectors. OARnet now offers its clients a wide array of network services across 2,400 miles of statewide, fiber-optic backbone. Both organizations are members of the Ohio Technology Consortium, the technology and information division of the Ohio Department of Higher Education.
Pitzer received a bachelor's degree in chemistry in 1959 from Caltech, his master's degree in physics in 1961 from Harvard University, and a doctorate in chemical physics in 1963 from Harvard University. He served as a postdoctoral fellow at M.I.T. and then as a faculty member at Caltech before joining the Chemistry Department at Ohio State University in 1968. He was promoted to professor in 1979 and served as department chair from 1989 to 1994.
Pitzer's doctoral thesis is considered one of the very few genuine landmarks in the history of theoretical chemistry. The pioneering research presented in his 1973 paper, "Contribution of Atomic Orbital Integrals to Symmetry Orbital Integrals," enabled ab initio computations on larger molecular systems than previously possible.