COLUMBUS, Ohio (

Jun 10, 1999

) —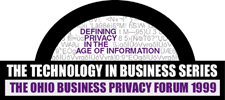 The explosion of the Internet changed the way the world does business. It has affected the way we hire employees, transfer medical records and make sales transactions.
In addition, advances in technology outpace current practice, law and regulation. For firms, this endangers valuable proprietary data. Meanwhile, consumers may have private information exposed without their knowledge.
The sponsors of the Ohio Business Privacy Forum hope to alleviate some of these concerns, as well as offer tips on best practices for using the Internet as a business tool. The one-day conference will be held August 31 at the Hyatt Regency, Columbus.
"The Ohio Business Privacy Forum is a statewide forum for Ohio's business community to learn more about emerging privacy issues affecting their markets and customers, employees and suppliers," said Pari Sabety, director of Technology Policy for the Ohio Supercomputer Center (OSC).
The conference mixes panel discussions with interactive workshops to provide participants with a better understanding of the legal, technological and practical issues related to protecting personal information. Topics cover everything from how to secure "mission-critical" information to learning about future directions in U.S. and international privacy legislation and regulation.
Additionally, companies will share "best practices" in developing privacy policies and complying with federal and state regulations.
Conference speakers and faculty include keynote speakers Professor Peter Swire, Chief Counselor for Privacy, Office of Management and Budget for the United States, and Professor George Trubow, Director, Center for Information Technology and Privacy Law, John Marshall Law School.
Early bird pricing at $195 is available through July 20. Group discounts also are available. For more information or to register go to www.osc.edu/privacy99 or call 614/292-4162.
The Ohio Business Privacy Forum is the first event of the Technology in Business Series sponsored by the OSC Technology Policy Group. The conference is being held in cooperation with The Ohio State University College of Law and The Ohio State University Fisher College of Business. Private sector sponsors include the Ohio Society of Certified Public Accountants, Bank One and a number of statewide law firms.