COLUMBUS, Ohio (

Aug 2, 2023

) —
The Ohio Supercomputer Center (OSC) is completing a two-year pilot project, funded by a grant from the National Science Foundation, to train more high performance computing (HPC) professionals in artificial intelligence (AI) technologies.
Staff at dozens of supercomputing research facilities across the nation participated in the AI Bootcamp for Cyberinfrastructure Professionals workshops during 2022 and 2023, which focused on topics such as machine learning, deep learning and data science. OSC offered a Common Foundations Track for new cohorts and developed a Software and Data-Facing Track for returning attendees, providing a more detailed look at best practices for managing the AI pipeline, state-of-the-art software and tools, common pitfalls, troubleshooting and lessons learned.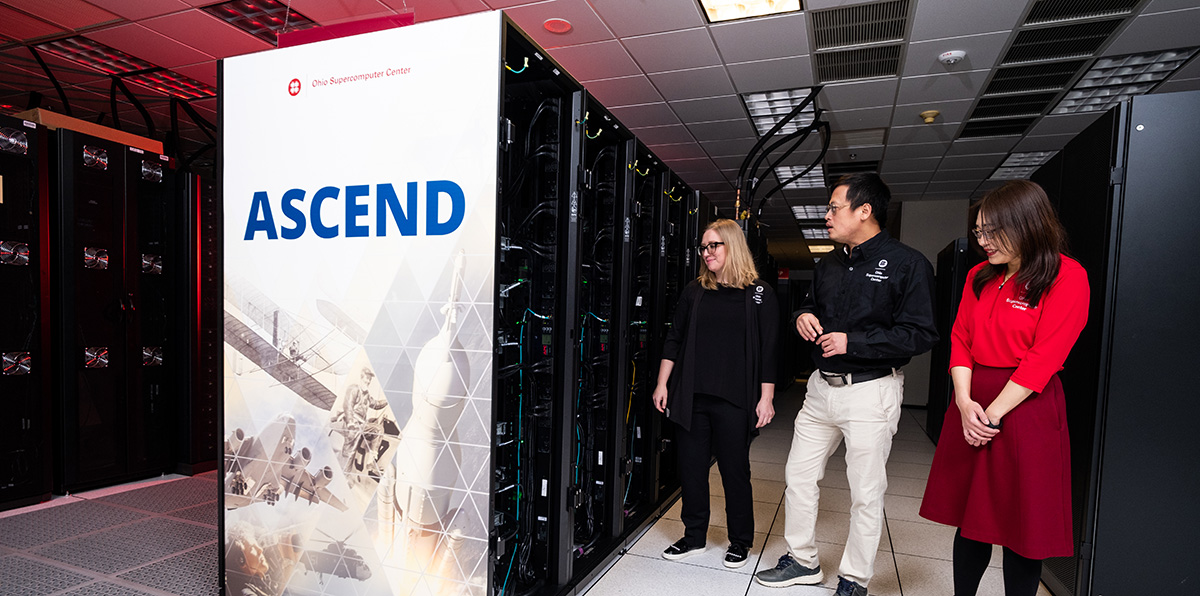 "We've had strong interest in the program from higher education institutions, government agencies and industry," said Karen Tomko, OSC director of research software applications. "Our participants have been very engaged in the programming, asking a lot of questions and providing feedback that has shaped the curriculum over the course of the pilot project."
More clients of HPC centers are using AI tools to pursue their research, and cyberinfrastructure staff must stay on top of fast-evolving AI software and technologies to meet these needs.
"Machine learning is a relatively new topic that became mainstream in the last 10 to 15 years, which means that most of us did not have a chance to learn it in school," said bootcamp participant Youngsu Kim, assistant professor of mathematics and ATI high performance computing faculty fellow at California State University San Bernardino. "The AI Bootcamp has been similar to an academic course and provided unique features compared to most materials found on the internet. The faculty members and graduate student shared their cutting-edge knowledge and deep understanding in an accommodating environment."
Kim appreciated that the AI Bootcamp courses were interactive and covered a wide range of topics, such as utilizing large-scale terminal-based resources, profiling code involving multiple nodes and graphics processing units (GPUs) and learning real-life applications with packages such as Scikit-Learn and PyTorch.
The workshops will help Kim serve more research groups, especially from non-STEM disciplines at his institution, he said.
"Primarily working in mathematics, I always wanted to expand my understanding of how AI and machine learning are used in other disciplines," Kim said. "This AI Bootcamp covered several areas, such as image and text processing, to name a few. It strengthened my understanding and provided an excellent starting point to explore to support our campus research community."
Bootcamp participant Joerg Oestreich, a research computing technologist with Case Western Reserve University, enrolled in the workshop to gain a greater understanding of HPC, AI and machine learning concepts and support the university's research community. He joined Case Western Reserve in August 2022 after working for many years in the private sector supporting researchers in the pharmaceutical industry and academics pursuing drug discovery.
"I believe the class gave me a good framework for continued self-study," Oestreich said. "It was packed with a lot of material that I can use to dive deeper into the topic. I particularly liked the Jupyter notebooks and the breath of topics at different levels, including running benchmarking scripts on the HPC at OSC."
Oestreich hopes to use machine learning algorithms in image analysis or signal processing to support the university's microscopy and imaging cores, as well as other research labs.
Several OSC staff members also attended the course to help improve OSC's own service to clients using AI technologies. Summer Wang, senior client engineer, enjoyed the workshop's combination of theory and hands-on exercises, which greatly expanded her AI knowledge and programming skills, she said. Wang also appreciated the opportunity to discuss issues with and learn from professionals from other HPC centers and institutions.
"We have been seeing a dramatic increase of AI applications and clients at OSC in the past few years," Wang said. "In the past, I often struggled with understanding the terminologies and workflow when an AI user was seeking support, despite the actual problem. The information and insight I gained from this workshop makes me feel more comfortable when talking to them now and also enables me to investigate their problems more efficiently."
With the pilot project complete, OSC now is exploring how to offer AI training to cyberinfrastructure professionals over the long-term, Tomko said.
More information is available about the AI Bootcamp for Cyberinfrastructure Professionals on the OSC website.
By Andrea Gibson
About OSC: The Ohio Supercomputer Center (OSC) addresses the rising computational demands of academic and industrial research communities by providing a robust shared infrastructure and proven expertise in advanced modeling, simulation and analysis. OSC empowers scientists with the services essential to making extraordinary discoveries and innovations, partners with businesses and industry to leverage computational science as a competitive force in the global knowledge economy and leads efforts to equip the workforce with the key technology skills required for 21st century jobs.