COLUMBUS, Ohio (

Oct 14, 2020

) —
The Ohio Supercomputer Center's (OSC) most efficient supercomputer system, the Pitzer Cluster, just received a major upgrade—in the middle of a global pandemic.
Over the summer, the two-year-old, liquid-cooled cluster gained nearly 400 nodes and 20,000 cores, increasing the system to more than 650 nodes and almost 30,000 cores in total. The nine new racks were delivered by a team from Dell EMC who carefully adhered to COVID-19 safety protocols. The OSC staff completed the onsite assembly and testing before making the expanded computing power available to OSC clients.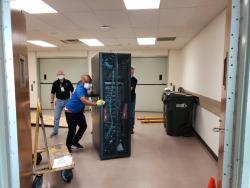 "The OSC user community is continually advancing their cutting-edge research projects, which in turn creates a demand for more computing," said David Hudak, executive director of OSC. "This expansive addition to the Pitzer Cluster helps us ensure we are providing the most up-to-date and comprehensive supercomputing and storage capabilities to Ohio's university students and faculty."
Prominent among a number of new features in this expansion is a set of nodes with NVLink. This technology, created by NVIDIA, serves as a scalable interconnect between multiple GPUs by providing higher bandwidth and more links. Additionally, Intel Xeon Cascade Lake processor-based nodes were installed. These are designed to handle large sets of data and enable almost real-time transactions, along with providing high-performance inference and vision for AI workloads, as noted on Intel's website.
OSC clients are already discussing the potential for expanded research capabilities. A significant portion of the expansion has been reserved in designated condos leased by faculty who are eager to utilize the new features unique to the Pitzer Cluster.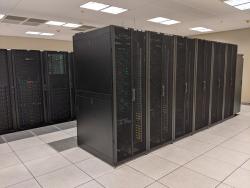 "The Pitzer expansion will lift major constraints on the sizes of problems we can currently compute," said professor Datta Gaitonde, John Glenn Chair in mechanical and aerospace engineering and Ohio Research Scholar at The Ohio State University. "This will enable us to resolve a much wider range of spatial and temporal turbulence scales in problems of interest to us, which include developing methods to reduce jet noise, evaluating vertical takeoff and landing loads on aircraft carriers and phenomena that dominate hypersonic flight."
With the Pitzer expansion, OSC clients had access to all the software they needed on day one. OSC staff implemented the same OS version and user software already found on the original Pitzer Cluster, making it a seamless transition.
"Our user community needed more computational resources such as processors, GPGPUs, and memory. We decided it was better to make an expansion to the Pitzer cluster using updated versions of proven technologies rather than a wait of uncertain duration for future chip designs," said Doug Johnson, associate director of OSC.
"The fact that we were able to reuse the same scientific and engineering applications as the original Pitzer cluster was a win-win: the existing applications work on both the old and new Pitzer nodes, and OSC staff saved significant time compared to making the same software available on a new architecture."
To read more about Pitzer's system specifications, click here. To read more about the original installation of the Pitzer Cluster, click here.
About OSC: The Ohio Supercomputer Center (OSC) addresses the rising computational demands of academic and industrial research communities by providing a robust shared infrastructure and proven expertise in advanced modeling, simulation and analysis. OSC empowers scientists with the services essential to making extraordinary discoveries and innovations, partners with businesses and industry to leverage computational science as a competitive force in the global knowledge economy and leads efforts to equip the workforce with the key technology skills required for 21st century jobs.