Columbus, Ohio (March 22, 2012) – Vijay Gadepally, a graduate research associate at the Ohio Supercomputer Center, represented The Ohio State University student body as he introduced President Barack Obama, who was on campus March 22 to promote his energy policy.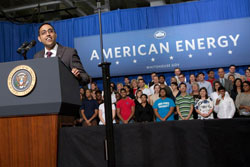 Vijay Gadepally
Gadepally was selected for the honor because he currently serves as the president of Ohio State's Council of Graduate Students. In this role, he is responsible for directing the activities of Ohio State's 12,000 graduate student's government.
A doctoral candidate in electrical and computer engineering at The Ohio State University, Gadepally is researching autonomous vehicles and statistical modeling of driver behavior. He also is interested in the public policy aspects of autonomous vehicles.
"Here at OSC, we're very proud of Vijay's accomplishments. He is clearly a natural leader, balancing his active research work with his role as President of the Council of Graduate Students at OSU," said Ashok Krishnamurthy, interim co-executive director of OSC and Gadepally's advisor.
Gadepally holds a B.Tech degree in Electrical Engineering from the Indian Institute of Technology, Kanpur, India.
____________
The Ohio Supercomputer Center (OSC), a member of the Ohio Technology Consortium of the Ohio Board of Regents, addresses the rising computational demands of academic and industrial research communities by providing a robust shared infrastructure and proven expertise in advanced modeling, simulation and analysis. OSC empowers scientists with the vital resources essential to make extraordinary discoveries and innovations, partners with businesses and industry to leverage computational science as a competitive force in the global knowledge economy, and leads efforts to equip the workforce with the key technology skills required to secure 21st century jobs. For more, visit www.osc.edu.