COLUMBUS, Ohio (

Sep 21, 2022

) —
The Ohio Supercomputer Center (OSC) leadership and staff have played a significant role in the national Practice and Experience in Advanced Research Computing (PEARC) Conference Series, the latest in a series of conferences beginning in 2006 to address the changing needs of the advanced cyberinfrastructure community.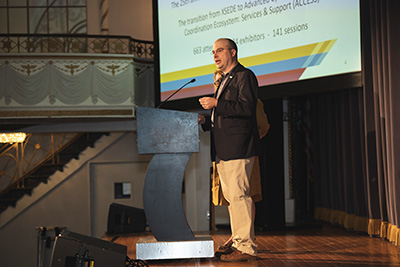 Alan Chalker, OSC director of strategic programs, served as general co-chair of the 2022 conference. His responsibilities included working with the sponsoring entity to select the event location, arranging and managing contracted services, defining and adhering to the conference budget and other management duties. Chalker also served as a member of the PEARC Steering Committee and appointed individuals to various conference planning committees. He oversaw the work of the committees and meeting planners, ensuring the successful implementation of all conference activities.
PEARC22 attracted more than 660 registrations and 24 exhibitors. The agenda featured 141 distinct sessions, and 92 papers and posters were published in the proceedings.
Other OSC staff involved in PEARC22 include Executive Director David Hudak, who was a reviewer for the event's technical program, and Katharine Cahill, education and training specialist, who served as co-chair of the Birds of a Feather technical committee. OSC sent 11 staff members to the conference and participated in eight sessions.
The Center also served as an exhibitor at PEARC22, promoting its Open OnDemand software platform. Open OnDemand was featured in the tutorial "Open OnDemand, OpenXDMoD, and ColdFront," which attracted 56 attendees, and the conference session "Open OnDemand User Group," attended by 99 participants.
For professionals in academia, government and industry, PEARC provides a forum for discussing the challenges, opportunities and solutions to critical issues facing the research computing community. The conference, organized completely by a group of dedicated volunteers that includes OSC leadership and staff, expands its impact by engaging a growing number of local, regional, national and international cyberinfrastructure and research computing partners.
OSC plans to continue its strong involvement in forthcoming PEARC conferences, including in leadership roles. In August, Chalker was elected chair of the PEARC Steering Committee, a one-year term.
By Kiah Easton
About OSC: The Ohio Supercomputer Center (OSC) addresses the rising computational demands of academic and industrial research communities by providing a robust shared infrastructure and proven expertise in advanced modeling, simulation and analysis. OSC empowers scientists with the services essential to making extraordinary discoveries and innovations, partners with businesses and industry to leverage computational science as a competitive force in the global knowledge economy and leads efforts to equip the workforce with the key technology skills required for 21st century jobs.