COLUMBUS, Ohio (

Oct 26, 2023

) —
As a partner of the National Science Foundation-funded Artificial Intelligence (AI) Institute for Intelligent Cyberinfrastructure (CI) with Computational Learning in the Environment (ICICLE), the Ohio Supercomputer Center (OSC) will host the project's 2023 All Hands Meeting Nov. 2-3.
ICICLE strives to enhance the accessibility of AI by developing CI across three initial domains of focus: smart foodsheds, digital agriculture and animal ecology, said Dhabaleswar K. ("DK") Panda, Ph.D., principal investigator for ICICLE and a professor of computer science at The Ohio State University.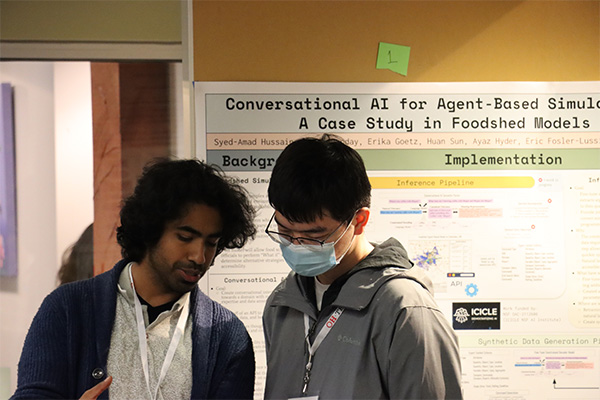 "Our central objective is to democratize the power of AI through conversational and visual interfaces that anyone can use," Panda said. "We want to work towards a world where a farmer could talk directly to their phone and ask questions like 'Should I harvest my crops today?'"
As the $20 million, five-year funded project enters its third year, all 14 project partners are convening in central Columbus for the All Hands Meeting to introduce new project proposals, identify valuable areas of collaboration and strategize the upcoming year's work, all aligned with the third year's overarching theme of "Innovate, Integrate and Generalize on the Path to Global Scale!"
Karen Tomko, director of research software applications at OSC, has worked with ICICLE since its creation in 2021.
"In year two, a big focus has been on releasing software components," Tomko said. "In year three we hope to increase the interdisciplinary collaboration within our large team, implementing CI components into real-world use cases."
Outreach, education and workforce development are also central to ICICLE's mission. Engaging with a diverse range of students, the All Hands Meeting will include contributions from the 2023 ICICLE Fellowship Cohort and ICICLE's Next Generation student group, said Neelima Savardekar, DHA, managing director of ICICLE.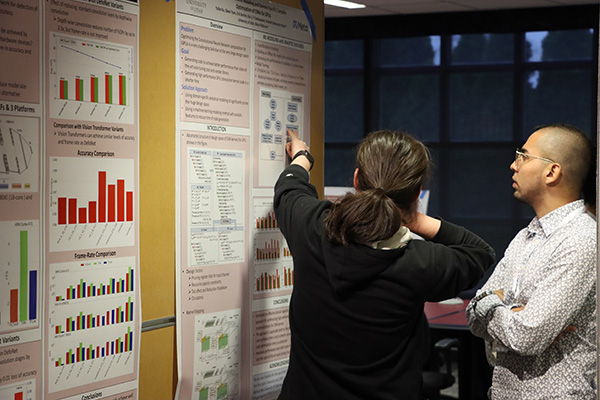 The All Hands Meeting will also focus on plans to increase engagement from stakeholders within the three domains. In year three ICICLE hopes to integrate CI components, generalizing them to a much broader scale, and bring in more stakeholder participation and commitment, Savardekar said.
To raise awareness of the project, members of ICICLE participated in a variety of outreach activities throughout year two. Panda and Tanya Berger-Wolf, director of Ohio State's Translational Data Analytics Institute, presented at the NSF AI Hill Day where AI institutes had the opportunity to showcase their achievements and interact with members of Congress.
"ICICLE is working hard to build the underlying infrastructure that will enable future development and research," Tomko said. "Our goal is to build up the software infrastructure, making it easy to test, deploy and evaluate AI in our three focus scenarios and beyond."
Other ICICLE project partners include:
Case Western Reserve University
IC-FOODS
Indiana University
Iowa State University
Rensselaer Polytechnic Institute
San Diego Supercomputer Center
Texas Advanced Computing Center
University of California, Davis
University of California, San Diego
University of Delaware
University of Utah
University of Wisconsin
About OSC: The Ohio Supercomputer Center (OSC) addresses the rising computational demands of academic and industrial research communities by providing a robust shared infrastructure and proven expertise in advanced modeling, simulation and analysis. OSC empowers scientists with the services essential to making extraordinary discoveries and innovations, partners with businesses and industry to leverage computational science as a competitive force in the global knowledge economy and leads efforts to equip the workforce with the key technology skills required for 21st century jobs.