COLUMBUS, Ohio (

Apr 9, 2015

) —
Ohio Board of Regents Chancellor John Carey and other dignitaries visited Ohio State's west campus today to help unveil the Ohio Supercomputer Center's newest supercomputer platform – the HP/Intel Xeon Phi Ruby Cluster.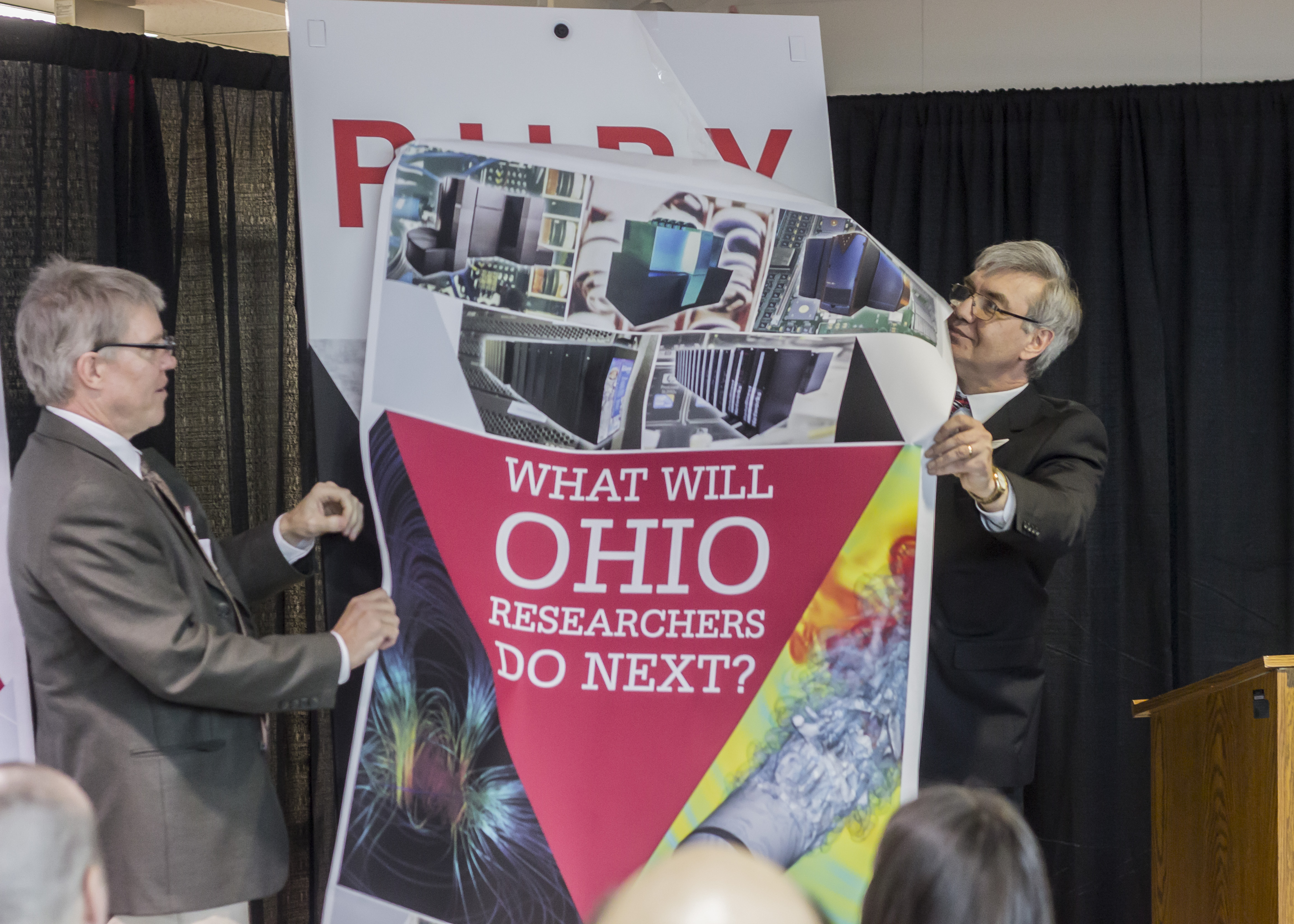 "This new cluster is a boon for Ohio for many reasons – it promotes continued collaboration and efficiency around the state, it supports and strengthens our commercialization efforts, it helps to train a high-tech workforce, and its availability will increase the quality of the education and research here," said Carey at the State of Ohio Computer Center. "I'm eager to see how OSC's university and industry researchers will use the Ruby Cluster to further strengthen our state."
---
The Ruby Dedication video is now available on Vimeo!
---
Carey was joined at the podium by Pankaj Shah, executive director of OSC and OARnet, and Thomas Beck, Ph.D., professor of chemistry at the University of Cincinnati and chair of the Statewide Users Group. Their audience comprised students, university IT leaders and researchers, policymakers and staff.
"OSC is dedicated to keeping users involved in the evolution of its HPC systems," said Beck. "This commitment ensures that research projects are computationally on par with work being conducted with colleagues and partner organizations throughout the state, across the country and internationally."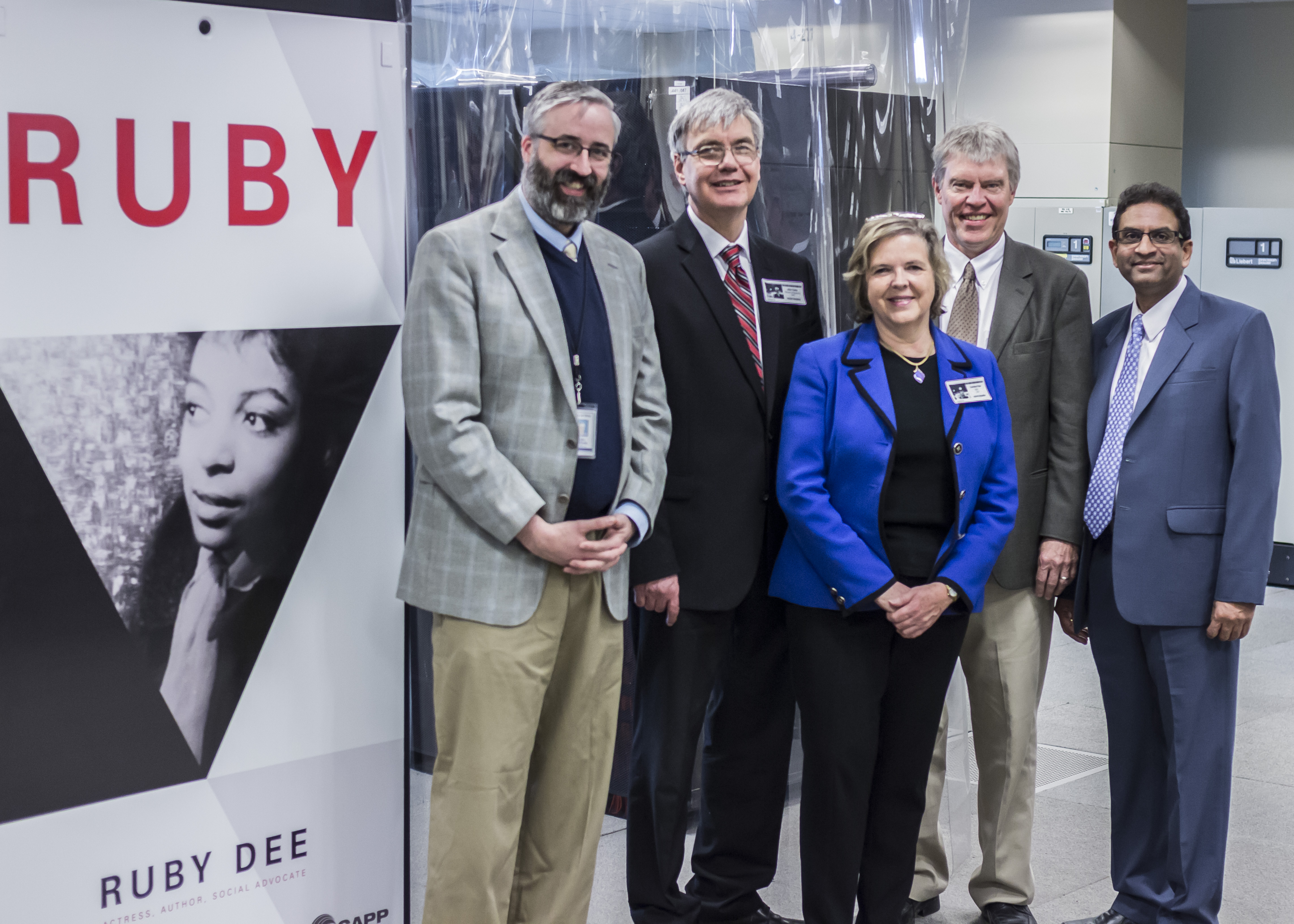 "The Ruby Cluster represents not only an important step toward a new model for fiscal sustainability, but also as a technology stepping stone to the much larger system that we plan to create later this year," said Shah. "This system and the next represent not only cutting-edge technology, but also investments in the types of tools that respond to the needs of our academic and industry clients through the dedicated technical team at OSC."
The Ruby Cluster was built last year in limited scope as a research machine to test combinations of new accelerator technologies. Recently, the system was boosted to 4800 Intel Xeon cores with Intel Xeon Phi accelerators on 20 nodes and Nvidia Tesla K40 GPUs on another 20 nodes. As a result, the cluster's total peak performance is estimated to reach 144 TeraFLOPS, tech-speak for 144 trillion calculations per second.
OSC typically dedicates its systems with an honorary name to recognize "trailblazers" who have connections to the State of Ohio. Some earlier examples include astronaut and statesman John Glenn, sharpshooter and women's advocate Annie Oakley, and digital art pioneer Chuck Csuri. The Ruby Cluster is named for the late Ruby Dee, the Cleveland-born actress, author and civil rights advocate.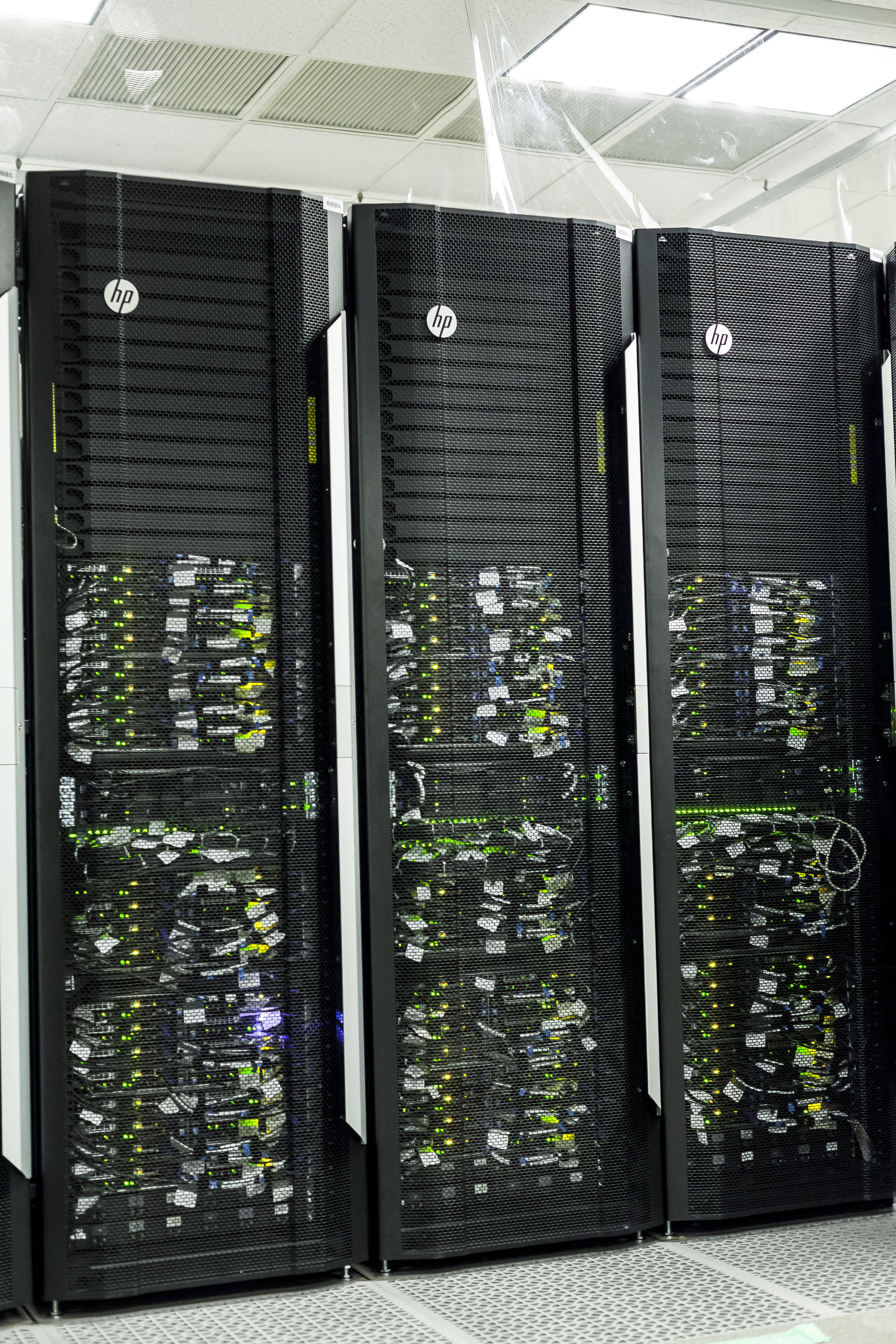 Dee was an American actress, playwright, screenwriter, activist, poet
and journalist. She was born Ruby Ann Wallace in Cleveland, Ohio, and grew up
in New York's Harlem neighborhood. She
 is perhaps best known for starring in the 1961 film and subsequent stage production of A Raisin in the Sun. Other film credits include 1950's The Jackie Robinson Story and 1988's Do the Right Thing.
Dee won Drama Desk and Obie awards
 for the 1970 play Boesman and Lena, and an Emmy Award nomination for her role
 in the 1979 miniseries Roots: The Next Generation. In 1991, Dee won an Emmy Award for her work on the television movie Decoration Day. Dee received an Academy Award nomination and won a Screen Actors Guild Award for her role in the 2007 film American Gangster.
Dee and her husband, Ossie Davis, were very active in the Civil Rights Movement, participating in marches and speaking out for racial equality. In 1995, she and Davis were awarded the American National Medal of the Arts from the National Endowment of the Arts in Washington, D.C. Dee and Davis published the autobiograpy With Ossie and Ruby: In This LifeTogether, and they later won a Grammy Award for the audio version of the book.