COLUMBUS, Ohio (

Oct 21, 2019

) —
Academic research provides students and staff alike the ability to pursue ground-breaking discoveries in numerous fields of study. These findings are propelled by Ohio universities' access to high performance computing (HPC) through the Ohio Supercomputer Center (OSC). Many of the state's researchers gathered at OSC for the biannual Statewide Users Group (SUG) conference on Thursday to share their current research and innovations that have used HPC.
The conference kicked off with three breakout sessions that each covered a different topic surrounding HPC usage. Attendees also had the chance to tour the State of Ohio Computer Center (SOCC) in lieu of attending a breakout session.
Thursday's keynote address was from Raj Krishnamurthy, a senior technical staff member at IBM. Krishnamurthy is also a master inventor and elected member of the IBM Academy of Technology. He works to develop software and hardware elements that can meet the demand of contemporary artificial intelligence workloads. His presentation was titled "Challenges and Opportunities: Convergence of HPC, Big Data and Machine Learning."
After a quick break for lunch, attendees listened to the OSC leadership team discuss updates on the Center's progress and performance. OSC Executive Director David Hudak introduced the idea of strategic planning where multiple stakeholders, including members of the user community, would come together to take feedback and ideas and turn them into a multi-year strategic plan for the direction of the Center. Information was shared pertaining to client impact, software and research services, systems overview and business details. Time was also set aside at the end of the presentation to allow attendees to ask questions.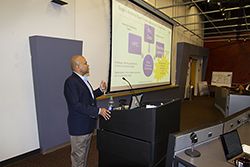 "At OSC, we always look forward to coming together with our users and witnessing all of the innovative ways that our HPC resources are being used in research across the state," said Brian Guilfoos, HPC client services manager at OSC. "This conference provides us with the opportunity to showcase our vision for the Center and keep our users involved in the evolution and growth of OSC."
The afternoon continued with the flash talk competition. This competition provided attendees with the ability to present their ongoing research that utilizes OSC resources. Each participant was given eight minutes to walk through their presentation. The audience then graded their performance. The flash talks allow researchers from across the state and in various disciplines to network and learn more about research that can be conducted using HPC. The winner of the flash talk competition was The Ohio State University's Lifeng Jin for his presentation titled "Large Scale Simulations of Language Acquisition." Second place was given to Joseph Smith of Ohio State for his presentation titled "Optimizing Laser-Plasma Interactions with Evolutionary Algorithms and Particle-In-Cell Simulations."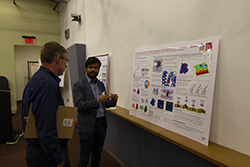 After a short break, attendees enjoyed hors d'oeuvres and networking before the poster competition began. Competitors talked through their research as judges and peers walked from poster to poster. The first-place winner was Ohio State's Danielle Parsons for her poster titled "Predicting cryptic diversity within class Mammalia." The second-place winner was Sanket Walujkar of Ohio State with a poster titled "Non-equilibrium Molecular Dynamics Simulations of TMC1, an Inner-ear Transduction Channel Candidate."
There were 10 flash talks and 19 posters in total. The first-place winners of the flash talk and poster competition were awarded 5,000 resource units of computer time on OSC systems. For second-place, winners were given 2,500 resource units. All flash talk and poster competitors received 1,000 resource units for participating.
The next SUG conference will take place in April 2020.
Flash Talk Participants:
Sanket Walujkar, The Ohio State University, Non-equilibrium molecular dynamics simulations of TMC1, an inner-ear transduction channel candidate
Joseph Smith, The Ohio State University, Optimizing Laser-Plasma Interactions with Evolutionary Algorithms and Particle-In-Cell Simulations
Astha Syal, Youngstown State University, Automatic Detection of Network Anomalies and Changes
Anoosha Paruchuri (Presented by Melanie Krook), The Ohio State University, Rapid Research Autopsy Demonstrates Diverse Patterns of Clonal Evolution in Metastatic Cholangiocarcinoma
Alexander Klepinger, The Ohio State University, A fully kinetic model of dust particle charging by contact with a thermal plasma
Siddhartha Bora, The Ohio State University, Evaluating USDA Net Cash Income Forecasts under Multivariate Asymmetric Loss
Remy Lalisse, The Ohio State University, Small Molecule Molybdenum Sulfide Compounds as low cost HER Catalysts
Preston Pozderac, The Ohio State University, PIC Modeling of Relativistic Plasma
Lifeng Jin, The Ohio State University, Large Scale Simulations of Language Acquisition
Chris Orban, The Ohio State University, Bringing the Hour of Code to the Math and Science Classroom
Poster Participants:
Birkan Gokbag, The Ohio State University, Systematic Detection of Enzalutamide Resistance Mechanism in Castration-Resistance Prostate Cancer
Donald Belcher, The Ohio State University, Tumor Vascular Status is the Determinant of Oxygen Delivery Facilitated by Transfused Polymerized Hemoglobins
Russell Bonneville, The Ohio State University, Development and Analytical Validation of MSI-Dx, a NGS Assay for Microsatellite Instability
David King, The Ohio State University, Capturing Semantic Conditions on Russian Inflectional Morphology with Sequence-to-Sequence Models
Archit Datar, The Ohio State University, Surface Area Determination of Metal-Organic Frameworks
Nicholas Liesen, The Ohio State University, Structure of segmented ionenes containing spherical nanoparticles
Thomas Malkus, The Ohio State University, Reduced order modeling of trailing edge serrations for low noise wind turbines
Mounica Maddela, The Ohio State University, Multi-task Pairwise Neural Ranking for Hashtag Segmentation
Michael Nichols, Xavier University, Resource Movement Controls Hyphal Morphology of Arbuscular Mycorrhizal Fungi
Ola Nosseir, The Ohio State University, Quinone Methide Precursors: A Protonation States Study
Danielle Parsons, The Ohio State University, Predicting cryptic diversity within class Mammalia
Clayton Peacock, University of Cincinnati, Modeling Bose/Fermi Fields in One Dimension Using Continuous Matrix Product States
Anoosha Paruchuri (Presented by Melanie Krook), The Ohio State University, Rapid Research Autopsy Demonstrates Diverse Patterns of Clonal Evolution in Metastatic Cholangiocarcinoma
Chaminda Samaranayake, Food, Ag. and Bio Engineering, OSU, Nonthermal Effects of Moderate Electric Fields on Pectin Methylesterase Activity: A Molecular Dynamics Study
Rajendra Thapa, Ohio University, Applications of inversion with diffraction data to study complex systems
Eric Samorodnitsky, The Ohio State University, FGFR-Dx: a clinical grade assay to detect actionable cancer-driving alterations in FGFR1, FGFR2, and FGFR3
Sanket Walujkar, The Ohio State University, Non-equilibrium Molecular Dynamics Simulations of TMC1, an Inner-ear Transduction Channel Candidate
Yuechun Wang, Department of Geography, The Ohio State University, Impacts of Soil Moisture Initializations on WRF-Simulated North American Monsoon System
Hassan Taherian, The Ohio State University, Deep Learning Based Multi-Channel Speaker Recognition in Noisy and Reverberant Environments