COLUMBUS, Ohio (

Jul 9, 2018

) —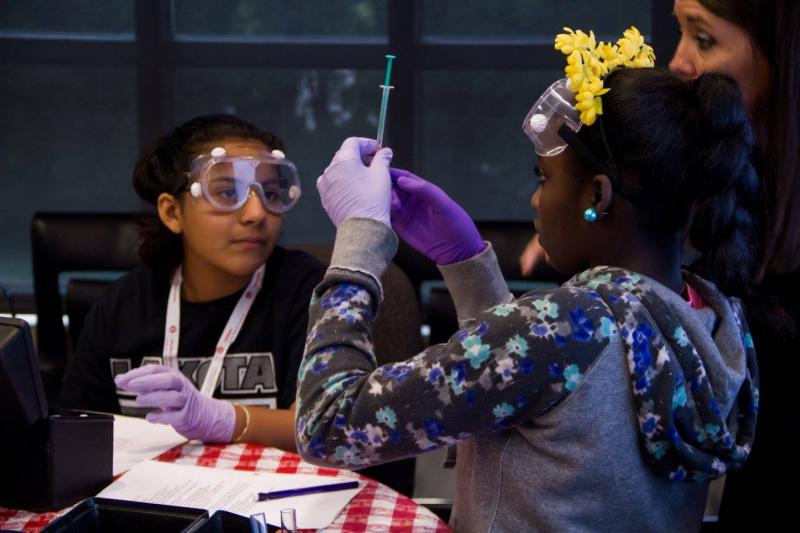 Fifteen Ohio middle school girls will be spending a week of their summer at the Ohio Supercomputer Center's (OSC) 29th annual Young Women's Summer Institute (YWSI), July 15-21 at The Ohio State University. The girls will investigate complex science problems while discovering career opportunities in the science, technology, engineering, and mathematics (STEM) fields.
The YWSI provides middle school girls with real-world experience in STEM fields. Students get hands-on experience working on scientific problems while developing their science, math, and engineering skills.
"The reason I think this program is so effective is it gives girls who may be just starting to question their math and science skills many examples of female scientists and a chance to engage in a scientific project where they are the inquirers," said Katherine Cahill, Ph.D., OSC education and training specialist and YWSI co-director.
YWSI students will take field trips focused on science and engineering, as well as complete group projects that include studying the effects of humans on wildlife, learning about the hydrologic cycle, and measuring water quality. The students will gain first-hand experience by visiting various watersheds in central Ohio, as well as touring the nearby Byrd Polar and Climate Research Center. The students also will gain a taste of campus life by living in dorms throughout the weeklong camp.
Birce Onal, a YWSI residential adviser and career panelist, sees the benefits of YWSI for its participants each year.
"YWSI and programs like this target three key areas to bring more women into STEM: creating a community, making science fun, and exposing young women to fields they were unaware of," said Onal, a graduate research associate at Ohio State's College of Engineering. "These programs target young women at an age when learning heavily depends on a positive social community. The camps allow smart young women to meet each other, work in groups, and talk openly with each other about science and their lives."
OSC provides additional education programs for STEM enrichment through the Summer Institute, designed for high school-aged students to engage in scientific research while working with some of the nation's best technology experts.
###
EDITORS: The following identifies the students selected for YWSI. The list is arranged alphabetically by last name and identifies each student's high school.
Ella Anderson, Immaculate Heart of Mary Cincinnati
Kiruthiga Balamurugan, Shanahan Middle School
Alayna Barton, Batavia Middle School
Claire Berlier, Sycamore Junior High School
Rose Boettner, Hilliard Station 6th Grade
Araceli Jones, Holy Angels
Julia Koenig, Sycamore Junior High School
Abigail Lahmers, Hilliard Tharp
Mira Martin, Woodbury Elementary
Isabella Mullins, Fredericktown Middle School
Adaugo Nwoke, Columbus Academy
Michelle Qiu, Karrer Middle School
Ava Sharett, Walnut Springs Middle School
Alissa Shyshkova, Bexley Middle School
Sota Nishiyama, Dublin Coffman High School
Sophie Zhuang, Willard Grizzell Middle School
The Ohio Supercomputer Center (OSC), a member of the Ohio Technology Consortium of the Ohio Department of Higher Education, addresses the rising computational demands of academic and industrial research communities by providing a robust shared infrastructure and proven expertise in advanced modeling, simulation and analysis. OSC empowers scientists with the vital resources essential to make extraordinary discoveries and innovations, partners with businesses and industry to leverage computational science as a competitive force in the global knowledge economy, and leads efforts to equip the workforce with the key technology skills required to secure 21st century jobs. For more, visit www.osc.edu.